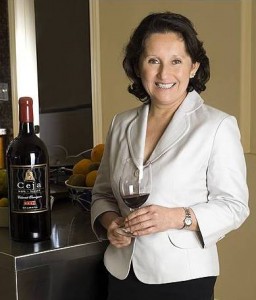 In 1999, Amelia Ceja co-founded Ceja Vineyards located in the Carneros region of Napa Valley. Amelia was named president which made her the first Latina Woman Vintner in California. The Ceja family paved the way not only for Latinos but also for many minority families in the wine industry. Today they produce about 10,000 cases of wine which is distributed throughout the U.S. and hey farm over 100 acres of prime vineyard land. Additionally they have successfully used social media and Amelia has created over 100 video blogs about pairing wine and Mexican food.

What are the challenges in being a Hispanic-owned winery?
Because I'm a Latina, no one ever thinks that I own Ceja Vineyards. Hispanics pick grapes – they don't own wineries.
You and your husband, both young at the time, were able to purchase 15 acres of Carneros land to plant in 1983. How did you accomplish this goal?
My husband Pedro and I had just finished college when we were married. We partnered with his parents, Pablo and Juanita Ceja and his brother Armando Ceja to purchase our first property in Carneros in the Napa Valley. We started with nothing but a desire to learn and a drive to work.
You are from Jalisco and moved to the Napa Valley with your family in 1967, but you returned to Mexico to finish school. Why?
My forward-thinking parents invited me to return to Mexico to attend prep school in Aguascalientes, one of the loveliest colonial cities in Mexico. I come from a very sheltered village and they knew that I needed to return to Mexico to explore its history, heritage, food and culture. They understood that my experience there would shape me and give me confidence to be an incredibly successful entrepreneur back in the U.S.
You have received multiple awards including being named "Woman of the Year" by the California State Legislature. How have those accolades helped shape you?
I've received numerous awards and I am honored and grateful. Awards are nice and it feels great to receive them, however, everything I've accomplished is because it's the right thing to do! I hope I inspire others to follow their dreams – I found mine in the wine industry.
Your family is actively involved in the wine business. Assuming there might be a day when the family is no longer interested in continuing with the business, would you sell to someone else, or close altogether?
Ceja Vineyards has many family members involved in running our company – it's what makes it great. We're building a legacy that will survive for centuries regardless of family members' involvement. My three kids all went away to college, and they all came back, and now indirectly they are working with us. It really enriches our brand because it is very important to take Ceja to the next level. They are contributing really great content and ideas in which to grow. However, our business can be sold and continue to thrive regardless of who runs it.
Does it bother you that you are described as a "Mexican-American winery owner," or a "female winery owner," in articles and the media, as opposed to just a winery owner?
No, it does not bother me to be described as a Mexican-American winery owner or a female winery. There are other challenges that are more important and I focus on those.
Do you have to still deal with prejudicial behavior as either a woman, or a woman of Hispanic origins, and how does that affect you?
I always have to deal with prejudice as a Latina woman. It doesn't affect me however – I'm stronger than the Great Wall of China.
Do you have any preferred food pairings with your wines?
I have many preferred wine and food parings, and here are a few: popcorn and Chardonnay; beans with corn tortillas and Cabernet Sauvignon; lightly grilled oysters with 2009 Ceja Sauvignon Blanc. People never thought to pair wine with Mexican food until we came along. There is always room at the table for wine, as long as the wine is balanced.
How important is it to you and your family to give back to your community?
My family and I have raised hundreds of thousands of dollars for Napa and Sonoma Counties, and all those monies go to education, health, and farm workers' housing. My kids also follow our tradition of giving back and that really comes from my parents. I hope if they have children, they will transfer that. We have to leave this earth better than how we found it. Both our people and our planet. We're building a legacy.
The true backbone of the wine industry is the farm workers and laborers who do the harvesting, pruning and planting. What might the wine industry look like without so many unsung laborers?
Without the Mexican labor force, there would not be a wine industry. I have gone from picking grapes to having a brand that is highly regarded in the United States. We appeal to every demographic group because of the way we bring people in. If we're not on hugging terms, we didn't do our job.
Rising wine alcohol levels in U.S. and foreign wines are a hot topic these days in wine circles. What are your thoughts on the subject?
I don't drink high alcohol wines. I'm a chef and high alcohol wines do not pair well with food. I do not enjoy wines that are hot because they're useless with all the foods that I love.
The 100 point rating scale is, for better or worse, here to stay and can help or hinder consumers. What do you see as being the impact of the 100 point rating system?
Two wine writers have changed the wine industry forever. Most wineries are dependent on wine scores for their survival and most wine all over the world is being produced to please these two palates. These wine writers provide a service to wine lovers that need guidance. But, they have forever changed the way wine is produced all over the world. The 100 point rating system must be abolished to protect wines provenance.