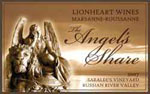 IntoWine recently sat down with Lionheart Wines Founder Leon Glover to discuss his foray into winemaking, his focus on food friendly wines, and his nascent wine brand, Lionheart Wines. A wine collector for 21 years, he completed the Wine & Spirit Education Trust (WSET) Diploma certification in 2008 (AIWS) with plans to enter the Master of Wine program in the next couple of years in an effort to further his wine knowledge and help train his palate for winemaking. He has been a judge at several wine competitions such as the Pinot Noir Shootout, Cabernet Sauvignon Shootout and looks for more wine judging opportunities in the future. Merging his professional career in high tech and entrepreneurship, his current technology project is a new search engine focused on wine and wine & food pairing recommendations. In 2006, Leon and his wife, Jennifer, started Lionheart Wines with the idea of producing premium quality yet affordable food-friendly wines to be shared with friends and family.
What inspired the name Lionheart Wines?
The name, Lionheart Wines, was picked for several reasons: 1) Lions and the name Leon have been connected in my family for many generations, 2) I wanted the name to be easy to say and memorable, 3) the brand name must have a positive meaning and connection with the wines – bold, powerful, memorable, and exceptional courage, and 4) a good source of imagery for promotional purposes.
Lionheart wines are made to be part of great food and wine pairings to be shared with friends and family – bold combinations for those adventurous people willing to try an up and coming brand.
The Lionheart Wines "Angel's Share" Marsanne Roussane was recently reviewed on IntoWineTV, watch now
How did your foray into winemaking come about?
My interest in winemaking started when I started collecting wine with my father's encouragement. The variety of wine in the world has always intrigued me and encouraged me to seek out new varietals, production techniques and wine growing regions. I educated myself by reading a wide range of wine information sources and training my palate with extensive wine tasting.
My opportunity to start making wine came about as a gift from my ex-wife – adopting a barrel of syrah at Crushpad in December 2005. The experience of selecting the blend for the barrel, selecting the barrel for aging, and bottling got me hooked on winemaking. Crushpad, a custom crush facility, provided a great place to learn about the theory and practical elements of winemaking. I worked as a cellar rat for two harvests focusing on the red wine fermentations – Cabernet Sauvignon, Cabernet Franc, Merlot, Malbec, Petite Verdot, Zinfandel, Petite Sirah, Pinot Noir, and Sangiovese. I also got to work with many white wine varietals – Marsanne, Roussanne, Viognier, Pinot Gris and Chardonnay. The delicacy of Marsanne and Roussanne have made them some of my favorite varietals to enjoy and produce.
Describe your winemaking philosophy:
Lionheart Wines was started with the philosophy of producing excellent premium affordable boutique wines to be shared with friends and family over great meals. Life is too short to drink anything less than good wine!
Our wines are made to be served with food. A good wine and a good meal by themselves are just that enjoyable. However, when the proper food wine pairing happens, a good wine and a good meal become outstanding and something you will remember for many years to come. We want to share our passion for food and wine to help you create your own amazing memories.
Great wine starts in the vineyard....only greatgrapes can make great wine. So, we are sourcing our fruit from some of the best low-yield farmed vineyards throughout California based on viticultural practices, clonal selection and desired fruit characteristics. We are looking to produce the best possible wine through the use of top quality oak barrels (when appropriate), top quality fruit, extended aging andblending to reach the best product possible. We will always be looking for excellent fruit sources and trying new blends to produce the best wine for you.
I am open to using the latest research and technique if it makes sense to improve the quality of the wine. I do try to avoid handling/adjusting the wine as much as possible – let the grapes show their magic.
What are your long-term goals for the brand?
My long-term goals for Lionheart Wines is to expand production up to 3k to 5k case annual production specializing in food-friendly varietals/blends. The varietals/blends focus will be Pinot Noir, Rhone varietals (Syrah, Grenache, Mourvedre, Roussanne, Marsanne, and Viognier) and Rose (Syrah / Sangiovese). All of these varietals make excellent food-friendly wines.
You have a particular focus on food friendly wines. What characteristics of a wine make it food friendly?
Food-friendly wines typically have a high amount of acidity (low pH), well integrated smooth tannins, and excellent balance between acidity, alcohol, intensity of aromas and flavors. The elements of an unbalanced wine will be magnified when paired improperly with food. For example, the alcohol in a wine amplifies spiciness in food, so a "hot" or high alcohol wine will seem higher in alcohol than the wine actually is.
When it comes to winemaking, what's one thing you know now that you wish you had known before you started?
I wish I would have known how addictive winemaking can be. I started off learning about one varietal which quickly lead to researching and working with more varietals. There is a vast amount of knowledge related to winemaking. Each question you ask and answer leads you to asking two more questions. As a winemaker, you need to be comfortable with ambiguity and willingness to experiment. I really enjoy learning and experimenting so winemaking is a natural fit for me.
A hot topic in wine circles is the "Parkerization" of wines. Some people claim his 100 point scoring system has been an enabling factor for consumers as they navigate the endless array of brands from which they can choose. Others claim his influence has negatively impacted wine quality as producers are increasingly crafting their wines to earn a high score from Parker at the expense of making the best wine they can with the fruit and resources they have available. Given this, what are your thoughts on Parker and the 100 point scoring system?
The 100 point scoring system is one way to help quantify one person's view of the quality of wine. It is up to each person to determine how useful a given critic/information source is accurately describing a wine for their personal tastes. I think it is very important for a person to figure out what their personal preferences are in wine.The value of wine to a given person is based on how much they like and appreciate the wine not what a given critic says about the wine.
Wine presents a special challenge in how to convey its quality and properties to other people given each person's palate and perception of wine are unique. Some people fine Robert Parker's opinions dead on while other people only like wines that Robert Parker rates less than 88 – neither is right or wrong just a personal preference.
Lastly, where can your wines be purchased?
My wines can purchased online (www.lionheartwines.com), at the following retail shops (Half Moon Bay Wine & Cheese, Coastside Market and K & L Wine Merchants), and the following restaurants (Landis Shoares Oceanside Inn – Half Moon Bay, Café Gibraltar - Montara, California Wine & Cheese - Monrovia, Iberia Restaurant – Menlo Park, The Wine Room – Palo Alto, The Wine Bar – Half Moon Bay, and A Grape in the Fog - Pacifica).