We're sorry, this video is not available rnow. Please check back later.
In this episode of IntoWineTV, host Lisa Kolenda and wine experts Bartholomew Broadbent and Loren Sonkin convene among the vines at Crushpad in Napa Valley to taste and discuss the cult wine brands of Crushpad.
Theme: Cult Wines of Crushpad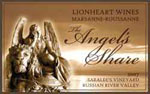 Wine: 2007 Lionheart Wines "The Angel's Share" Marsanne Roussanne ($25), Buy this wine
Region: Russian River Valley
Vineyard: Sara Lee's Vineyard
Alcohol: 13.5%
Varietals: Marsanne (66%), Roussanne (33%), and Viognier (1%)
Read the IntoWine interview with Lionheart Wines Founder Leon Glover.
Wine Notes: This blend of Marsanne (66%), Roussanne (33%), and Viognier (1%) is an elegant, unique, almost "ethereal" wine - a secret to share with intimate friends on a warm summer day. Pronounced aromas of lemon, lime, mineral, white floral, hint of black tea, pear, kiwi, sweet spices and matching flavors with the addition of hazelnut with a creamy texture are layered over a firm acidity core mellowed by barrel aging in nearly neutral French oak for 8 months allowing the flavors to marry and develop enjoyable complexity.  50% of the Marsanne did not go through malolactic fermentation to help retain the natural acidity.  The wine was bottled early to retain the bright and lovely fruit characteristics.  The wine will improve in bottle over the next 2 to 3 years. Recommended with crab cakes, tequila chicken, shellfish, avocado chutney, seafood salad with vinaigrette dressing, ceviche, or something a little bit spicy!
The wine is available at:
Coastside Market, Montara, CA
Cafe Gibaltar, Montara, CA
K & L Wine Merchants - SF store and online
Landis Shores Oceanfront Inn, Half Moon Bay
Half Moon Bay Fish Market, Half Moon Bay
Background: I (founder Leon Glover) am a self-taught winemaker.  I am a firm believer in science being used to help make the best possible product without fundamentally altering what the grapes give you.  There are many things that can go wrong when you are making wine.  Science and modern techniques help you avoid a very large number of potential problems.  It is also important for the wine to maintain a sense of place, terroir, if you will.  A syrah from a cool climate should not taste, look like or have the same mouth feel as syrah from a hot growing region.
The name Lionheart Wines comes out of a "blue sky" exercise that my wife and I did when we started out on this adventure.  My family has many generations of Leons. The family crest has a lion in it as well.  The Lion/Leon connection was accidental.  After we thought up many names, I did some intellectual property right searching to make sure none of the names were in conflict with anyone else.  As it turns out, the name "Lionheart Wines" was not taken anywhere while the other top two had some type of conflict. I took it as a positive sign.
I am looking to make bold, top quality wines made to go with food.  The word, Lionheart, really sums up what I am going for -- bold, courage, positive, etc.
I am a self-taught chef.  So, food is very important to me.  I believe that wine should be served with food (in general).  The style of wine I make is geared to go with food -- more acid, balance between alcohol, flavors, aromas, tannins and acidity.  My wines should improve in the bottle for many years after release -- makes for more interesting wine and food pairings.
A wine that is out of balance will be very noticeable when you have it with food.  It is easier to make "cocktail" wine -- high alcohol, a hint of residual sugar, simple tannins, fruit-forward and with little aging potential.
Experts:
Bartholomew Broadbent, CEO of Broadbent Selections. Bartholomew was named as one of the "fifty most influential people in the wine world" by Decanter Magazine. He is also widely considered to be one of the world's foremost authorities on Port and Madeira. Learn more about Bartholomew Broadbent.
Loren Sonkin is an IntoWine.com Featured Contributor and the Founder/Winemaker at Sonkin Cellars.
What is Crushpad? 
Crushpad is a facility that enables anyone with a serious interest in wine to participate in the magic of winemaking. With their team of wine industry veterans, modern winemaking technology, and access to some of the best grapes and vineyards around, Crushpad empowers their clients to make the type and style of wine they desire. Crushpad clients are as involved or uninvolved as they wish. Some take a "hands on" approach to every step of the process while others let the Crushpad professionals take care of the time consuming parts. In short, Crushpad is a pathway into the art, science, and business of winemaking for passionate wine lovers who don't own a vineyard or winery. Interested in learning more? Stop by the Crushpad tasting room in Napa Valley or visit Crushpad.com.