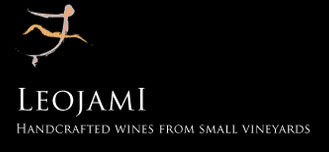 IntoWine recently caught up with winemaker -and frequent IntoWine contributing writer- Ben Spencer to discuss his wine brand, Leojami, and his foray into producing the first single-vineyard, 100% Marselan wine. Thanks to Ben for chatting.   
What inspired the name Leojami?
Leojami (pronounced LAY - OHJ - AH - MEE) is a portmanteau of my wife's first name LEOnarda and mine benJAMIn. The label is a project of passions – her passion for food and my passion for wine. She is a cookbook editor. I've been making wine professionally on the Central Coast for about ten years. Food is a large part of who we are, at home, with family and friends, and professionally. Leojami is the product of many days and nights spent examining terroir, local foods and versatile wine varieties in the US and abroad.
Describe your winemaking philosophy:
Winemaking is a natural process for me. I try to make wines that speak of a place and a vintage. That is why we only make single-vineyard wines. The success of the vintage begins with the quality of the grapes so I pay very close attention to the practices of the growers with whom we work. All of our vineyard partners have sustainable farming practices. By selecting specific varieties and vineyard sites, we're able to capture the true essence of each wine. In the winery, I use classic methods and modern tools to cultivate the unique aromas and flavors of each wine. In most cases, the wines make themselves. I'm just a part of the process. My job is to capture the whole spectacular series of events in a kind of suspended animation. I call this animation the wine's arch of potability. The longer we are able to stretch this arch, the more precious the wine becomes – especially when you're making the small quantities that we are. 
Leojami recently became the first domestic producer of a single-vineyard Marselan. What made you decide to produce a Marselan?
My wife and I were in Europe last summer. She's from Sicily and we were spending some time there, tasting the local wines, meeting with winemakers, hanging out with family. One of the local producers we met on Mt. Etna opened a bottle of Marselan (pronounced MAR-SEH-LAHN) he'd made from an experimental block on his estate. I was very impressed with the wine. When we returned to California I search for and found the only US grower. They just happened to be here on the Central California Coast. We secured the grapes and harvested in mid-October. The wine is in barrel now. We tasted the wine in January. The young wine is very showy, fruit-forward and deeply structured. We'll see how it develops over the next several months.
What makes Marselan such a rarity in the US?
There is only one vineyard in the US with one acre of Marselan vines. The sheer limited quantity of the grapes alone would make this wine unique to the US, but the color, aromas, flavors and sensory experience is truly out of this world. 
How would you describe the grape? What kind of wine should we expect?
Marselan is a hybrid of Grenache Noir and Cabernet Sauvignon. The color is almost opaque with pigmented tears. The aromas are of ripe red cherry, blueberry, cassis, and bramble fruit. The palate is dry and medium bodied with firm, ripe tannins and a long structured finish. Marselan was created in 1961 in the Languedoc region of Southern France. Since then, it's been propagated and utilized in large part as a blending element for red wines from the region. A few producers are now releasing single-varietal bottlings of Marselan, but until now no one in the US has produced a single-vineyard 100% Marselan solely for the domestic market.  
When will the Marselan be available? Where can it be purchased?
The Marselan will be ready in the fall of 2011, we think. Because we haven't made the wine before, we aren't sure exactly how long the elevage will take. I'll taste the wine every couple of weeks to monitor the progress. I'm sure the wine will tell me when it's ready to be bottled and released.
What are your goals for the brand? Will it be widely distributed or something consumers should order directly?
Since 2008, when we launched the brand, we've only made about 225 cases for each vintage. That's ultra small, even for micro-winery standards. The goal is to build the brand slowly, develop our portfolio and eventually max out at about 5,000 cases. We sell the wines directly through our website, www.LeojamiWines.com. We also just got picked up by Canopy Wine Group, a Bay Area broker/distributor, so that should help spread the wines around.
What other wines does Leojami produce?
We only produce single-variety and single-vineyard wines: Viognier, Grenache, Syrah, Sangiovese and now the Marselan. We also do an ultra-small 25 case production of a single-vineyard saignee each year. 
A hot topic in wine circles is the "Parkerization" of wines. Some people claim his 100 point scoring system has been an enabling factor for consumers as they navigate the endless array of brands from which they can. Others claim his influence has negatively impacted wine quality as producers are increasingly crafting their wines to earn a high score from Parker at the expense of making the best wine they can with the fruit and resources they have available. Given this, what are your thoughts on Parker and the 100 point scoring system?
It's my opinion that large brands that depend on international celebrities like Parker to help sell their products are simply a part of a system which has propelled wine to the cultural curiosity that it is today. Parker offers a baseline, really. One man's opinion, one standard. If you taste all the wines Parker says are "90 points" and/or above, you will come to understand that his palate has its leanings. Other critics have varying opinions. As consumers become more educated I think figures like Parker will fade into the background. Consumers will learn to trust their own palates; they will find regions and varieties and terroirs that suit their tastes, and critics that they trust. The 100-point system is merely a simplistic way to communicate the 'grade' or 'value' or 'potential' of a wine. It's politically correct, I think. I'm not after scores, per se. I'm a terroirist and the Leojami wines show that. I am more interested in a wine's individuality, it's ability to display the essence of place and time. For me, winemaking is more cosmic than simply getting good grades.  
Last question: Why try Leojami wines?
Leojami wines are good. They're really good. Leojami wines are unique, food friendly, memorable, delicious and affordable. Each wine is the epitome of class, taste, style and grace. If you want a wine that leaves you wanting more, Leojami is the one to check out.