In this episode of IntoWineTV, host Lisa Kolenda and wine experts Bartholomew Broadbent and Loren Sonkin convene among the vines at Crushpad in Napa Valley to taste and discuss the cult wine brands of Crushpad.
Theme: Cult Wines of Crushpad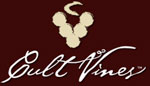 Wine: 2007 Cult Vines Cabernet Sauvignon, $125 Buy this wine 
Vineyard: To Kalon Vineyard - This is the site that started the California cult cab mania. It has produced many legendary wines, including 99 point scores from the beloved Robert Parker. Located in the Oakville American Viticultural Area (AVA), at the base of the Mayacamas Mountain range, To Kalon experiences warm daytime temperatures tempered by the morning and evening fog influence from the Pacific Ocean.This is our oldest vineyard and the fruit is sourced from a block planted with clone 4 in the mid 90's. Consisting mostly of clay loam, it drains well and doesn't retain nutrients well. The effect is natural devigoration that results in smaller, more concentrated clusters of fruit. Wines produced from this site have a phenomenal combination of power and silkiness. This is the Grand Cru vineyard of the new world!
Region: Napa Valley
Varietals: 100% Cabernet Sauvignon
Alcohol %: 15%
Background: Cult Vines Michael Cochran: Our 2007 Cult Vines Cabernet is 100% Cab, made with 100% Andy Beckstoffer To Kalon fruit. We sell it online for $125 per bottle and only made 50 cases, so it is extremely rare. Personally, I think it is one of the best wines you can buy today, period! I have poured it at shows like the Twitter spit and twit and the response from the crowd was simply in one word, "Stunning". I know you will absolutely love this wine! 
Read the IntoWine interview with Cult Vines' Co-Founder Michael Cochran
2007 Cabernet Sauvignon -To Kalon (Oakville)
Color - Very deep, inky and opaque color with a purplish hue.
Aroma - Rich and ripe aromas of blackberries and black currants, integrated with toasty oak and vanilla.
Flavor/Palate - Soft entry, packed with ripe fruit flavors. Good solid mid-palate that picks up sturdy, young tannins; building to a lengthy finish. The complex tannins give the wine the potential to really evolve over time. 
Cult Vines Founders - Cult Vines was founded by Mike and Tina Cochran and Laura and Randy Otander. Their passion for wine and "cult like" pursuit of quality vines has given rise to some of the finest wine in the world. Hence the name "Cult Vines". Their journey began years ago when their passion for quality wine turned to production and with it, a lifestyle of education, research, travel and learning from some of today's leading wine experts. Before founding Cult Vines, Michael launched and managed a global business for a fortune 500 company, while Laura launched and managed her own insurance brokerage and Randy launched (and currently manages) his own rent-to-own appliance stores. I guess you could say being entrepreneurs is what's in our blood.
Mike, Tina, Laura and Randy began producing Cabernet from a small block of grapes from the To Kalon Vineyard. Today they produce a select amount of premium wine with the help of wine visionaries, specialized crush facilities and traditional processes that meet their exacting standards. They hope you'll enjoy their wine just as much as they do!
Winemaker-Michael Zitzlaff - General Manager & Chief Winemaker
Michael is the General Manager and Chief Winemaker for Cult Vines, overseeing all aspects of the production of our Roussanne and Napa Valley Cabernet. Michael brings a stellar background and expertise to the team and we look forward to bringing you the highest quality wines. Michael has had full winemaking responsibility for his family's winery; Oakridge Estate located in the Yarra Valley, one hour East of Melbourne, Australia. After successfully building the Oakridge wine brand nationally and internationally, Michael initiated and managed an IPO in Oakridge Vineyards Limited where he was Chairman and CEO.
His wines have been recognized internationally receiving awards such as, "Warren Winiarski – Stag's Leap Trophy" for "Best Cabernet Sauvignon of Show" and "The Wolf Blass Trophy" for "Best Australian Red Wine of Show" at the International Wine and Spirit Competition, London in 2000 and receiving the award for "Best New World Pinot Noir" at the International Wine Challenge in London, 2002.
Experts:
Bartholomew Broadbent, CEO of Broadbent Selections. Bartholomew was named as one of the "fifty most influential people in the wine world" by Decanter Magazine. He is also widely considered to be one of the world's foremost authorities on Port and Madeira. Learn more about Bartholomew Broadbent.
Loren Sonkin is an IntoWine.com Featured Contributor and the Founder/Winemaker at Sonkin Cellars.
What is Crushpad? 
Crushpad is a facility that enables anyone with a serious interest in wine to participate in the magic of winemaking. With their team of wine industry veterans, modern winemaking technology, and access to some of the best grapes and vineyards around, Crushpad empowers their clients to make the type and style of wine they desire. Crushpad clients are as involved or uninvolved as they wish. Some take a "hands on" approach to every step of the process while others let the Crushpad professionals take care of the time consuming parts. In short, Crushpad is a pathway into the art, science, and business of winemaking for passionate wine lovers who don't own a vineyard or winery. Interested in learning more? Stop by the Crushpad tasting room in Napa Valley or visit Crushpad.com.