We're sorry, this video is not available rnow. Please check back later.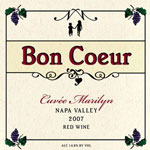 In this episode of IntoWineTV, host Lisa Kolenda and wine experts Bartholomew Broadbent and Loren Sonkin convene among the vines at Crushpad in Napa Valley to taste and discuss the cult wine brands of Crushpad.
Theme: Cult Wines of Crushpad
Wine: 2007 Bon Coeur Cuvée Marilyn ($65), Buy this wine (15% discount by the case with shipping included for orders over $250)
Region: Napa Valley
Vineyard: Tokalon and Vineyard X
Alcohol: 14.8%
Varietals: 70% Cabernet Sauvignon from Oakville (Tokalon and Vineyard X) with Cabernet Franc, Merlot, and Malbec
Read the IntoWine interview with Bon Coeur Cellars Founder David Freeman.
Background: Bon Coeur Cellars is a small, family owned establishment focusing on very small lots of handcrafted Pinot Noir and Cabernet Sauvignon. David Mark Freeman, a children's heart doctor who took to heart the old adage that there are more old wine drinkers than old doctors, established Bon Coeur in 2006 with his wife Marilyn Cairney Freeman, a cardiac nurse. Of course it goes without saying that advice and help from assistant vintners Nicole, 10, and Nathan, 7, was indispensable.
After several years' experience crafting wine at home, and with the same passion for detail that they bring to examining the hearts of their little patients with stethoscopes, electrocardiograms, and ultrasound, they took the leap from hobbyist to pro in 2006 when an allotment of super premium Cabernet grapes became available from a great vineyard in Napa Valley. Shortly thereafter veteran winemaker Kian Tavakoli (formerly of Opus One and former director of the red wine program at Clos du Val) agreed to come aboard as consultant for our expanding Cabernet production.
Bon Coeur, literally "good heart" in French, is a tiny but big-hearted producer of memorable wines, wines with heart. Flashy – no, but solid, focused wines with structure and integrity - yes, meant to be enjoyed with family and good friends. When should you drink it, you may ask? We can hardly improve upon the advice given over 300 years ago by Henry Aldrich, who said there are five reasons for drinking: the arrival of a friend; one's present or future thirst; the excellence of the wine; or any other reason.
Where do your grapes come from? You can only make great wine if you start with great fruit, and we have been fortunate to source grapes from really great sites. Our inaugural vintage 2006 Cabernet is from Napa Valley's historic ToKalon Vineyard in Oakville, from which we were able to procure enough fruit for one barrel. For 2007 we were able to procure more, so we threw caution to the wind and snapped up enough for several more barrels, and then added three new Napa Valley sites: Vineyard X, another superb Oakville site down the road; Ink Grade Vineyard (Howell Mountain appellation), which supplies us with our mountain fruit; and Lake Cynthia Vineyard in the southern part of Napa Valley, which produces small concentrated Merlot grapes.
Experts:
Bartholomew Broadbent, CEO of Broadbent Selections. Bartholomew was named as one of the "fifty most influential people in the wine world" by Decanter Magazine. He is also widely considered to be one of the world's foremost authorities on Port and Madeira. Learn more about Bartholomew Broadbent.
Loren Sonkin is an IntoWine.com Featured Contributor and the Founder/Winemaker at Sonkin Cellars.
What is Crushpad? 
Crushpad is a facility that enables anyone with a serious interest in wine to participate in the magic of winemaking. With their team of wine industry veterans, modern winemaking technology, and access to some of the best grapes and vineyards around, Crushpad empowers their clients to make the type and style of wine they desire. Crushpad clients are as involved or uninvolved as they wish. Some take a "hands on" approach to every step of the process while others let the Crushpad professionals take care of the time consuming parts. In short, Crushpad is a pathway into the art, science, and business of winemaking for passionate wine lovers who don't own a vineyard or winery. Interested in learning more? Stop by the Crushpad tasting room in Napa Valley or visit Crushpad.com.