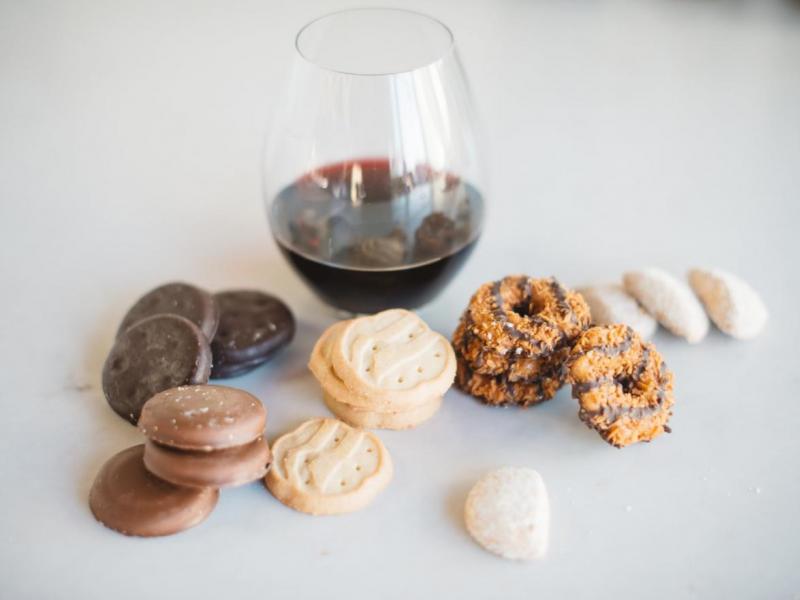 It's that time of year again.  Girl Scout cookie time.  Of course, for some people, that is a chance to avoid making eye contact with the Moms and Dads who are co-workers of yours.  For others, it's a chance to meet the neighbors as their girls' tour door to door peddling the sugary wares.  And for even others, it's a chance to go off their diets in the interest of supporting the greater good.
Yet, for some reason, the concept of the right wine pairings for Girl Scout cookies is not at the top of everyone's list.  Shockingly, some people rip open a tube of Thin Mints (they are packaged as a single serving, right?) and don't give a thought as to what wine would enhance this meal.  Oh right, like you have never made a meal of Samoas? 
This then, is the definitive list of pairings.  To be sure milk is always an easy stand by, and what 12 year old hasn't noticed how well a Tag-a-long matches to a craft brewed Coffee Stout, but since ancient times, true gourmands and sommeliers alike have struggled with proper Girl Scout Cookie and Wine matches.  Struggle no further. 

Girl Scout Smores® - There are actually two versions of this cookie depending on what region you order from*.  Luckily, the basic flavors are the same, to-wit (and isn't cool to use a phrase like to-wit when discussing Girl Scout cookies):  Graham cracker, chocolate and marshmallowy (?) stuff.  Forgetting that a food description ending with a "y" is just weird, these actually pair well with a nice Rhone blend.  Think Syrah to match the chocolate, and the graham cracker works well with earthier varieties.  The sweet marshmallowy flavors call for something a bit savory to balance it.  I am thinking a nice Cotes du Rhone for under $20 preferably young for the excellent 2015 vintage. 

Thin Mints® - Is there a more classic Girl Scout cookie?.  The thin snap of the wafer, the dark chocolaty (there is the Y again) coating, the mint flavoring; an almost perfect cookie experience.  The mint is the tough match here.  I recommend going with an Australian wine that has a bit of a mentholyptus note.  Often when a vineyard is planted close to these trees, the oil travels thru the air and imparts some of the flavors into the wine.  Western Victoria in Australia is well known for this, but it is also found in many Napa Cabs.  A red such as a Cabernet Sauvignon would work well.  Heitz Martha's Vineyard in Napa California is famous for this as well and would be a great, if expensive, choice. 

Carmel DeLites® or Samoas® - It depends on where you buy these as to what they are called.  Who knew that Girl Scout cookies had different names in different places?  In any event, these chewy cookies feature caramel, coconut and chocolate flavors.  They need something hearty to stand up to all of that chewing.  I am going with a Spanish Red.  These wines are often made in American Oak which can also impart a bit of a coconut note to it.  A young but fruity Tempranillo has a nice match to the caramel and slight chocolate notes.  Typically not monster wines, they should allow the flavor of the cookie to come out without over powering it, yet the wines are chewy enough to stand up to all that cookie chewing. 

Peanut Butter Patties® or Tagalongs® - Again, same cookie, different name.  My personal favorite.  A layer of peanut butter with a rich chocolaty coating and nice wafer.  The texture is the thing here as well as well as the flavors.  The wine needs to be big and bold to match the cookie experience.  Zinfandel is a perfect choice.  The rich red fruits of a California Zin go great with the chocolaty and peanut butter flavors.  They are both so satisfying; the trick will be limiting them.  Of course, that is always an issue with Girl Scout cookies. 

Shortbread or Trefoils® - What the heck is a "trefoil" anyway.  Shortbread is a much better name.  Perhaps the most under rated of all Girl Scout cookies.  It always seems to be the one with the least check marks on the forms.  What a shame.  It's a delicious and versatile cookie and perhaps the easiest to match with wine.  In fact, of all the pairings in this article, this was the most difficult due to the large number of possibilities.  In the end, it also has the best pairing.  In fact, a perfect pairing.  Champagne.  Sure, you could get any kind of sparkling wine and it would work, but I am talking about the real stuff.  The lemon flavors, the slight oxidized notes, the tiny bubbles,  and the celebratory nature are perfect with short bread cookies.  Try it.  Next year, these cookies should sell out. 

Do-si-dos® / Peanut Butter Sandwich – I guess even the Girl Scouts can't copyright a Peanut Butter Sandwich cookie.  These have a crisp oatmeal cookie on the outside with a layer of peanut butter in the middle.  The nuttiness is again an issue, but I am going to go a bit different here and say these are a great match for a Tawny Port.  Of course, the older these are, the nuttier they can be (the Port not the cookies).  But even a nice Ten Year Tawny would match well.  Sure there is a lot of alcohol, but luckily the cookies will fill you up before you drink too much.  Come to think of it, this might be the perfect date food, watch a movie, eat the cookies, drink the wine; what could be better?

Lemonades™ - Interestingly, the only trademarked name of the bunch.  These are shortbread cookies with lemon icing.  Sancerre makes a great pairing.  This Sauvignon Blanc based wine from France has a little lemon quality as well.  It does not have the grassiness of some California offerings nor the tropical fruit of many New Zealand offerings which would over power the delicate cookie.  Sancerre's have a great acidity that will work with the cookie and also a delicate quality to match it. 

Thanks-A-Lot® - One of the newer offerings from the Girl Scouts.  They have "Thank You" written in a variety of languages on the top of a shortbread wafer with a fudge layer on the bottom.  This simple cookie works best with a simple Merlot.  Preferably from Bordeaux and not too expensive.  The 2015's should be hitting the shelves soon.  There will be lots of great values at the lower end of the price spectrum.  Merlot often has a chocolate note and the shortbread will go with the minimal oak treatment these wines get.  A great pairing that should not break the bank. 

Savannah Smiles® - This is a lemony flavored cookie dusted with powdered sugar.  Riesling is the obvious answer and while almost any Riesling would work, I would go with something a bit off dry.  2015 in Germany is great.  Kung Fu Girl from Washington State is a bargain.  But if you like dry, then something basic from Alsace works well too.  The mineral quality with a bit of steely fruit is perfect for these dentist office favorites. 

Trios – These are a gluten free offering from the Girl Scouts.  Kind of a generic peanut butter, chocolate chip, and oatmeal cookie.  They are not offered everywhere.  Sort of like when wineries release a generic red blend of everything they have left over I guess.  So, that might just be the answer.  Get yourself one of the better Red Blends off the shelf at the supermarket.  Let me know how that works for you.  I haven't had this cookie, so I can't really comment, but if you find a good one, let me know. 

Toffee-tastic™ - The other gluten free cookie available in select markets.  These are basically butter cookies with a toffee crunch thing in them.  The pairing should be obvious.  Chardonnay.  Chardonnays come in a lot of styles, but, for these, go with one that has seen some oak and is not in the crisper style.  Wine geeks would say one that has been thru full malolactic fermentation.  Just find a Chardonnay you really like and it should pair just fine with these.  Maybe do your own tasting. 
Now you have your answers as to what to pair.  No need to avoid your co-workers.  In fact, when they give you their daughter's order form, you can offer to go to the wine store for them.  Maybe make your own order form and send it around the office.  Now, if you will excuse me, I think I hear the doorbell ringing. 
*The descriptions and offerings are available on http://www.girlscouts.org/en/cookies/all-about-cookies/Meet-the-Cookies.html