Getting Zapped: Zinfandel Comes of Age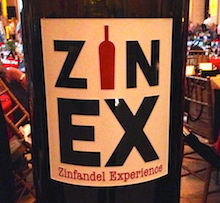 Zinfandel is considered "America's grape" because it was widely planted when the California wine industry began to grow in the mid to late 1850s, but it is not, however, a truly American grape; it's an immigrant – it originally came from Europe. Though heavily planted in California, you see far too many iterations that are all jammy fruit and sweetness. Nothing wrong with that, but Zinfandel can also be elegant, structured, earthy and subtle; a wine of diversity breaking away from typical Cabernet/Merlot flavors, and nothing like Syrah at all. But most people's perception is Zin as a pizza and burger wine. Oh, the horror. Yes, I'm a ZinFan. And any ZinFan should really attend the annual ZinEx - the Zinfandel Experience - in San Francisco, as I did in February 2017 to get a well rounded, truly authentic look (and taste) into how diverse and exceptional Zinfandel can be.
ZinEx is like most multi-day festivals; there are special "flight" tastings with older vintages (I had some 2002, 2004, 2007 vintages), winemaker dinners, an evening auction, and grand tasting. But what sets this apart is the near fanatical nature of Zinfandel fans. You don't really get this from Cabernet or Pinot - sure there are die-hards – but Zinfandel excites a primal sense in wine lovers; there's something nearly visceral, emotional and instinctual. During ZinEx there were events at the terrific One Market Restaurant (including some of the best calamari I've had outside of Crete), the Bentley Reserve (formerly the San Francisco Federal reserve bank) not to mention the Grand Tasting held at Pier 27 overlooking the San Francisco Bay, which saw more than 1,500 attendees. Over the course of that day, over 20,000 appetizers from 18 artisan purveyors and chefs were available – of which I had maybe five or six, which reminds me to eat more next year. Rounding out the afternoon were more than 600 different Zinfandels poured from California growing regions and appellations from diverse places including Mendocino, Redwood Valley, Lake County, Napa, Sonoma, El Dorado, Amador County, Shenandoah Valley, Calaveras County, Lodi, Contra Costa, Livermore, Paso Robles, and as far south as Cucamonga. So if you are addicted to Zinfandel, or if Zinfandel is still something of a mystery, a visit to ZinEx will open your mind and your palate to California's First Grape, so do check it out. www.ZinfandelExperience.com
My Top Zinfandel Finds at ZinEx/2017:
NV Lava Cap River Red (Zin blend), $18
2013 Steele Old Vine Mendocino County, $19
2014 The Federalist, Bourbon Barrel Aged, $25
2015 Day Zinfandel Sonoma Coast $30
2014 Dashe Cellars Todd Brothers Old Vine, $35
Terra d'Oro 10 Year Tawny Port, $50
2014 Miraflores Trilegato, $55
2013 Vezer Family, La Salette, Suisun Valley, $90
For more than 25 years, The California Wine Club founders Bruce and Pam Boring have explored all corners of California's wine country to find award-winning, handcrafted wine to share with the world. Each month, the club features a different small family winery and hand selects two of their best wines for members.