We're sorry, this video is not available rnow. Please check back later.
In this episode of IntoWineTV, host Lisa Kolenda and wine experts Bartholomew Broadbent, Cezar Kusik, and Rob Renteria convene at one of San Francisco's finest restaurants, Incanto, to taste and discuss Super Tuscan wines.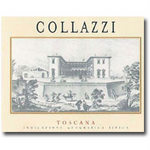 Wine: Collazzi 2005 ($50)

Find Collazzi Wines
Region: Tuscany
Alcohol: 13.5%
Varietals: Cabernet Sauvignon 60%, Merlot 30%, Cabernet Franc 10%
- Upcoming IntoWineTV Video Themes
- Wine producers and distributors: Find out how to get your wines included in our next session. More info...

Background: Villa Collazzi is one of the most impressive estates in all of Tuscany. Set atop a hill located a few miles south of Florence on the old road to Volterra, it offers commanding views of the surrounding countryside. This architectural landmark was originally designed by Michelangelo in 1560 for his friend, Agostino Dini. It features two rows of loggias above a large courtyard enclosed on three sides and open on a fourth. The building remained incomplete for centuries until it was purchased by the Marchi family in 1933. Of the estate's 960 acres just under 50 are currently planted to vines. The soils are composed of clay, sand and rock. Well draining and low in organic matter, they offer the perfect habitat for grapes. The property is planted to Cabernet Sauvignon, Merlot, Cabernet Franc and Sangiovese. The wines are aged primarily in new French oak barrels. The estate produces a Chianti Classico called I Bastioni and a Super-Tuscan blend called Collazzi. Villa Collazzi is currently run by three siblings from the Marchi family – Carlo Marchi, Grazia Marchi Gazzoni Frascara and Bona Marchi Frescobaldi, The first vintage under the Collazzi label was 1999.
Experts:
Bartholomew Broadbent, CEO of Broadbent Selections. Bartholomew was named as one of the "fifty most influential people in the wine world" by Decanter Magazine. He is also widely considered to be one of the world's foremost authorities on Port and Madeira. Learn more about Bartholomew Broadbent.
Cezar Kusik, Fine Wine Specialist, Fourcade & Hecht Wine Selections.
Rob Renteria, Wine Director at Napa Valley's Martini House.
Location: Incanto Italian Restaurant & Wine Bar.  Situated in the heart of one of San Francisco's most charming residential neighborhoods, Incanto's rustic Italian setting, with its handcrafted stone, antique brick and woodwork, 16th century Latin parchments, and private dining room dedicated to poet Dante Alighieri, provides a uniquely warm and inviting dining environment.
Incanto's daily-changing menu honors old-world traditions including house-cured meats, unusual regional pastas, fresh local seafood and a commitment to sustainably grown and harvested produce. Incanto's award-winning wine program features one of the most diverse Italian wine lists in the United States and an ever-changing lineup of more than twenty wines by the glass, half-glass, half-liter, and flight.