Italy's Super Tuscan Wines: History & Recommendations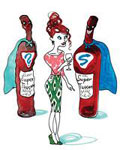 Last month I wrote about the "Super Marches" wines from Le Marche. I realize that I have yet to discuss the granddaddy of all the "Super" wines; Super Tuscans. Tuscany has a long history of making great indigenous wines. See previous articles on Chianti, Brunello and Vin Santo. It is also home to some of the best internationally styled wines which are known collectively as Super Tuscans. So just what is a Super Tuscan? There really are no hard and fast rules. First and foremost, the term generally refers to red wines from Tuscany that do not conform to any DOC(G) regulations. They are released as IGT wines or even Vino de Tavola (VdT) or table wine. Beyond that, it is a term more of marketing than art or science.

To understand the history of Super Tuscans, it helps to remember what the Tuscan, and Italian, wine scene was like post World War II. Most of the wine produced was for local distribution, and not of the highest quality. Outside of a handful of Brunello producers, the top wines being produced in Tuscany were Chianti's. The Chianti's of that day were cheap and easy to drink, somewhat rustic wines. As was discussed in the Chianti article, the DOC laws allowed the use of up to 30% white Malvasia grapes. The net effect was to make Chianti's easy to drink but hardly a serious wine. Chiantis, often sold in straw covered "fiasco" bottles, were a commercial success but hardly a wine to boast about.
In the 1940's, Marchese Mario Incisa della Rocchetta settled with his wife on a horse ranch in Bolgheri on the Tuscan coast. At the time, this was considered a poor location for growing grapes to make wine. Yet, Rocchetta was not interested in making wines for the market, only for himself (and his wife). He imported Cabernet Sauvignon vines from Chateau Lafite in Bordeaux and planted a vineyard calling his estate Tenuta San Guido. He then aged the wine in French oak barriques (instead of the large Slovenian Casks most Chianti producers of the day were using). The wines at first were rustic but good (or so I am told). Over the years, Rocchetta learned his craft and made better and better wines. They were unlike any other Italian wines. The wines were called Sassicaia, planting the seed of the Super Tuscan movement.
Sassicaia wines garnered a small reputation for their quality. They were, however, quite limited and may have remained a footnote in Italian wine history except for one family connection. Piero Antinori, whose family was and still is, one of the largest winemaking families in Chianti, dating back 600 years, was a relative of Rocchetta. He had tasted the early vintages of Sassicaia and knew of the quality. In 1968 Antinori persuaded Rochetta to let Marchesi Antinori Distributors have 250 cases of the wine to sell. It was an instant hit. In 1978 it won a tasting of the world's best Cabernets held in London. In fact, Sassicaia now has its own DOC, the only single winery DOC in Italy.
Antinori was not only impressed by Sassicaia, he realized the potential of the terroir of Bolgheri and the usefulness of introducing new varietals. Moreover, he grasped that he could make a better wine than his Chianti and, even labeled as VdT, it could be a commercial success. He began experimenting with ways to achieve great quality in his wines. By eliminating the white Malvasia grapes his Chiantis became more structured and profound. He also tested the addition of Bordeaux varietals to the Sangiovese wines.
The idea of blending Sangiovese grapes with international grapes was not new; records show it being done in the 18th century. Under Italy's present DOC system, however, such wines must be labeled as VdT, considered the lowest designation of Italy's wines. This labeling was a source of awkwardness for the producers, who certainly could not charge top dollar for the wines. Antinori, nonetheless, had the clout to create a wine and the marketing skills to be able to successfully charge high prices. In the early 1970's, Chianti was not permitted to be 100% Sangiovese, yet Antinori was convinced that would make a better wine. In 1971, Antinori released a new wine called Tignanello. It is generally regarded as the first Super Tuscan. The 1971 Tignanello was 100% Sangiovese, aged in smaller French oak barriques (since 1975 this wine has included about 20% Cabernet Sauvignon) and a commercial and artistic success.
Numerous other Tuscan producers saw the results and followed. Some were frustrated by the DOC laws of Chianti, others envious of the high quality and high prices of Tignanello. Many existing wineries and several new ones started to grow grapes on the Bolgheri coast. There was no set formula for these wines. Most contained Cabernet or Merlot, a lot had Sangiovese, and some had Syrah or other varietals. The most consistent thing about them was their high pricing. Many of these wines could now be called Chianti, as the DOC laws have been changed to eliminate the need for white Malvasia grapes and allow for 100% Sangiovese, but the genie is out of the bottle. There is more cache in the Super Tuscan name at this point.
By the 1980's "Super" wines had proven their worth. Regions throughout Italy started to create these wines almost flouting their lack of DOC status. In 1992, partly in response to this phenomenon, Italy added a new classification to their wines. Indicazione Geografica Tipica or IGT was created to add some level of regulation to non-DOC(G) wines. Most Super Tuscans now carry an IGT Toscana designation.
Today, the Super Tuscan term is accepted as meaning a red wine, often using international varietals and certainly made in a more international style. The last term can be somewhat controversial and it is used here to mean wines made with small French oak barriques, often new wood, with plenty of upfront robust fruit. At the same time, these are wines that are still Italian in their soul. They are better on the dinner table than sipping alone. They are built with a strong back bone of acidity best enjoyed with food.