Super Tuscan wines can be expensive and, let's face it, with the Euro kicking the Dollar's butt, finding a Super Tuscan that doesn't break the bank can be a challenge. IntoWine.com asked our panel of wine experts to recommend the best Super Tuscan "Value" wines:
A Sangiovese-less Super Tuscan!?!? Specifically I suggest the 2003 Rocca di Montegrossi "Geremia". I know, I know. There's no Sangiovese in this Super Tuscan! It's 60/40 Merlot and Cabernet Sauvignon, respectively. And truly, it is a brutish wine, filled with tannin and body and yet there is a substantial amount of finesse. The 2003 vintage was a beauty for Northern Italy, unlike 2002.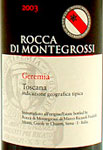 And if we are looking for value in what the Bolghieri coast and satellite appellations are doing with international varieties, well this is a great place to start. For the money (About $30) you can't find a more solid example of what can the Italians can do with these varieties. Truly an Italian style, you will not find the Bordelaise anywhere in this wine. It is ripe and full-figured and completely worth the price. Where other Super-Tuscans regularly feature triple-digit prices for a single bottle, this little, inexpensive gem is like the Little Engine That Could, and it does. – Ben Spencer is a diploma student with the Wine & Spirit Education Trust and an IntoWine Featured Writer.
----------------------------------------------
Back in the early 1980s, I remember launching, in Canada, for the first time, a delicious and inexpensive wine called Sassicaia.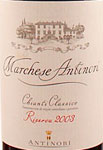 Piero Antinori was marketing his cousin's wine and came out to the launch in Toronto. Later we launched an even better "value" wine called Solaia. Those were the days! Luckily, it was cheap enough then that I bought several few cases, along with another of my Antinori favorites, Tignanello, all of which I still have in my cellar. Alas, I can't afford to drink them! The great Supertuscan wines that I used to sell for around $20 are now triple figures on release, so what to fall back on? Well, you know, to me a super Tuscan wine can be interpreted as a delicious Tuscan wine, not necessarily a, one word, Supertuscan. If you believe that, I have always found that Antinori's Chianti Classico Reserva is a wine that is not only a great value wine but also a wine that ages extremely well. In fact, I still have bottles of the 1967 in my cellar that drink beautifully. OK, if I am going to cheat and avoid suggesting a "value" Supertuscan [one word], I may as well go full steam ahead and say that one of the best Tuscan wineries I've tasted in many years happens to be in, of all places, Virginia USA! Barboursville, owned and run by Italians, is described in its catalogue as a piece of Tuscany in Virginia and I have to say I agree. The landscape is breathtakingly beautiful and the wines rival any from anywhere in the world. I particularly like the Octagon, a classic Bordeaux blend, but they also make remarkable Sangiovese and Nebbiolo. - Bartholomew Broadbent, CEO, Broadbent Selections, San Francisco
----------------------------------------------

Value and Super Tuscan are not terms that often are thought of together.  Many of these wines have long since passed into triple digit pricing.  One that I like, that you can still find for around $25 a bottle is from Terrabianca.  It is called Campaccio.  A blend of 70% Sangiovese and 30% Cabernet Sauvignon, it sees a year in oak and a year in bottle before being released.   These wines can be drunk on purchase or cellared for 10 years or more.  Right now, I find the 97's and 99's are really nice.  The oak has integrated, the fruit is still vibrant and they drink so well.  They have great fruit, red berries with an earthiness that really develops with age.  Like many Italian wines, they have a firm backbone of acidity that really makes these wines ideal at the dinner table.  2004, a fantastic vintage in Tuscany, is the current release.  I would certainly recommend buying a few, some for now and some to lay down. - Loren Sonkin is an IntoWine.com Featured Contributor and the Founder/Winemaker at Sonkin Cellars.
----------------------------------------------
Ornellaia. Solaia. Cabernet Sauvigon. These are what most folks think of when mentions the descriptor "Super Tuscan". However, one of my favorite "Super Tuscans" is in fact quite unorthodox, as it is comprised of a blend of Sangiovese, Alicante, Syrah, and Carignan. La Mozza is the creation of Lidia Bastianich, Joe Bastianich and Mario Batali, whose goal is to create unique and elegant wines utilizing Mediterranean varietals grown throughout the region. The 2005 La Mozza "Aragone" Maremma Toscana IGT $39.99 Is a delicious "Super Tuscan" that drinks beautifully with variety of heartier Italian dishes but doesn't need to include the triple digit price tags of other more famous Super Tuscans. - Mulan Chan, Rhône and French Regional Buyer, K&L Wine Merchants