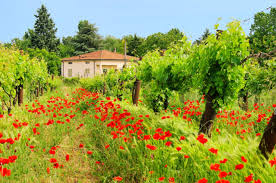 Forty-five dollars is a lot of money to spend on a bottle of wine.  Yet, it is also a threshold pricing for wine.  For many people, that is the most they are willing to spend on a bottle.  For others, that is a typical Tuesday night pizza wine.  The real question is what kind of quality you can get for that price.  Unfortunately, the best wines often cost more.  On the other hand, spending more does not guarantee quality.  With that in mind, this article turns its attention to Italy in general and Tuscany in particular.
There are a lot of great wine values in Italy.  Great values may be a bit less easy to find in Tuscany but they are there.  The best wines of Tuscany are usually labelled as Super Tuscans or Brunello di Montalcino, and many of those sell for north of $100 per bottle.  One can, however, find very good to great wines, that are still affordable and available.  Some of these are also labelled as Super Tuscans or Brunellos, but many are Chianti, Vino Nobile di Montepulciano or other names.  There is a wide swath of quality in these bottlings, but the best are very good wines.  In Tuscany, these tend to be made from the Sangiovese grape, often with Merlot or Cabernet Sauvignon added in. 
For purposes of this article, I paid no attention to vintage.  These are wines that are almost always good regardless of vintage characteristics.  The wines also had to be reasonably available in that price range.  While some may span the $45 mark, they can be found for under.  Without further ado, here is my list of the top twenty Tuscan wines available for under $45. 
1.    Fattoria di Felsina Chianti Classico Riserva Rancia – I have written about the wine before.  The top Chianti in the Felsina family.  It ages beautifully (and does need time to develop).  It's better than most Brunello's. 
2.    Ciacci Piccolomini d'Aragona Brunello di Montalcino – A really good Brunello that is fairly priced.  Drinks well young and ages well for twenty years in a good vintage.  One of my go to values in Brunello. 
3.    Montevertine IGT Montevertine – A beautiful Super Tuscan wine.  The winery makes more expensive wines, but this wine can be stunning.  It's a Sangiovese blend (the same grape in Chianti or Brunello).  Lasts a long time in a good cellar.  The '97 is beautiful now. 
4.    Fattoria di Felsina Chianti Classico Riserva – Want something a bit less expensive than the Rancia (see above).  This one is almost as good and in fact, drinks better young.  A beautiful version of Chianti.
5.    Petrolo Il Torrione – Another wine from a producer more known for their $100+ wines.  This Sangiovese based wine comes from just outside Chianti.  One of the best values on this list.  Easy to drink and works with or without food. 
6.    San Felice Chianti Classico Riserva Il Grigio – A beautiful, fruit forward style of Chianti.  Great with food too.  Lots of great cherry flavors.  Complex.  Great wine. 
7.    Castello dei Rampolla Chianti Classico – Another producer making some very high end wines (noticing a trend here? – look for "lesser" wines from great producers).  This is a more traditional Chianti meaning a bit less exuberant.  Still, plenty of fruit here and great with food. 
8.    Fattoria di Felsina Chianti Classico – One more from this producer.  Their basic Chianti is fantastic.  For under $25, this is ready to drink on release yet will reward ageing in a good cellar.  Excellent wine that seems to always bring remarks such as "I didn't know Chianti could be so good". 
9.    Fontodi Chianti Classico – My second favorite Chianti producer.  Their base Chianti is great.  Juicy, complex, and with plenty of fruit.  Drink now or age.  A world class wine to be sure.  Of course, they make more expensive wines too, but when the occasion calls for it, this delivers. 
10.  Poliziano Vino Nobile di Montepulciano – One of the great areas for value in Tuscany is Vino Nobile di Montepulciano.  There are a few producers whose wines compete with the best of them.  This is my favorite.  Sadly, the top bottling, Asinone, is a bit above the price range for this article, but their basic VNdM is also an excellent Sangiovese wine
11.  Az Agr Dei Vino Nobile di Montepulciano – While we are discussing Vino Nobile wines, this is another very good producer.  The wine is affordable and drinks well, especially with food.  Better than most Chianti's. 
12.  Il Poggione Rosso di Montalcino – Many Brunello producers also produce a lower end wine known as Rosso di Montalcino.  Not all are great, but most are drinkable.  A few are excellent.  This is one that is very good, especially in the better vintages. 
13.  Castello Banfi Rosso di Montalcino – Another Rosso, Banfi is a producer that many people like to dismiss for a variety of reasons.  Its owned by an American family, it's a huge winery, or the wines are everywhere.  The truth is, Banfi makes some very nice wines at all price points.  This is one of them.  For under $20, there are not a lot of better wines that are so readily available. 
14.  La Brancaia Chianti Classico Riserva – Yet another chianti from a Tuscan producer of some expensive wines.    This is a more modern take on Chianti and a great style to serve to your California wine loving friends.  Great with food.  I would try to look for the better vintages. 
15.  La Brancaia Tre – Take the previous wine, add some Merlot and Cabernet Sauvignon and drop the price by $5 and this is what you get.  Easy to drink.  Won't break the bank.  A very nice wine for the money. 
16.  Castello di Nipozzano Chianti Rufina Riserva – From the Ruffina sub-region of Chianti.  This wine is seemingly available everywhere and often shows up on wine lists in neighborhood Italian restaurants.  Its consistently good and very food friendly.  Reasonably priced. 
17.  Morisfarms Morellino di Scansano – OK, I admit it.  One of my favorite names for a winery from Tuscany.  The wines are quite good as well.  This is their least expensive wine.  It is an easy to sip, enjoyable wine that can be found for under $20. 
18.  P Antinori Villa Antinori Chianti Classico Riserva – I first started drinking this wine back in the 90's.  That's not that long when one considers this winery has been around for 700 years or so.  Still, the 1997's still drink great.  It can found easily and drinks great. 
19.  Ruffino Modus – Another Sanigovese-Cabernet-Merlot blend.  Very modern, easy to drink wine that can be found for a reasonable price.  Drinks great with food or on its own. 
20.  Bibi Graetz Casamatta – Let's finish the list with a very inexpensive white wine made from the Vermentino grape.  Delicious.  Make sure to buy a very recent vintage (within a year or two at most of the current year).  Refreshing and great with food.