We're sorry, this video is not available rnow. Please check back later.
In this episode of IntoWineTV, host Lisa Kolenda and wine experts Bartholomew Broadbent, Cezar Kusik, and Rob Renteria convene at one of San Francisco's finest restaurants, Incanto, to taste and discuss Super Tuscan wines.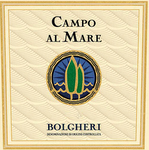 Wine: Campo al Mare Bolgheri 2007 ($35)

Find Campo al Mare Bolgheri 2007
Region: Bolgheri, Tuscany
Alcohol: Alcohol: 14.5%
Varietals: 60% Merlot, 20% Cabernet Sauvignon, 20% Cabernet Franc
- Upcoming IntoWineTV Video Themes
- Wine producers and distributors: Find out how to get your wines included in our next session. More info...

Background: In 1999, the Folonari family began to aquire property in the commune of Castagneto Carducci, in the province of Livorno, near the Mediterranean coast. In this area, during the 1990s, the Bolgheri D.O.C. was resoundingly affirmed. Through the dedication of a few prestigious Italian wine families, the denomination has gained international fame and its wines indisputable appreciation. This is a zone which enjoys an exceptionally favorable climate tempered by the sea air blowing from the nearby Mediterranean. The soil is characterized by clay and sand, and for the most part the topography slopes gently toward the sea, a convergence of factors spectacularly well-suited to Bordelaise vine varieties. Cabernet Sauvignon, Cabernet Franc, Merlot, Petit Verdot and Malbec express themselves at the highest level of quality. Tenute di Ambrogio e Giovanni Folonari has acquired approximately 100 acres of land of which 60 are planted in vines and the remainder in process of being planted. An ultra-modern winery designed by the Parisian architect Jean-Michel Wilmotte was completed in late 2002. The estate's first releases were the 2004 vintage of Campo al Mare Vermentino di Toscana I.G.T. and the 2003 vintage of Campo al Mare Bolgheri D.O.C., both released in early 2005. These will be followed by other wines yet to be determined to complete the range. Campo al Mare is produced from Merlot, Cabernet Sauvignon and Cabernet Franc grapes cultivated within the Campo al Mare estate in the D.O.C. zone of Bolgheri. Campo al Mare is a deep ruby color with violet reflections. It shows aromas of small red woodland fruits with notes of licorice and discreet oak in the background. On the palate, the wine is full and velvety in texture, with the aromatic impressions confirmed in the flavors, finishing on a long, silky note.
Experts:
Bartholomew Broadbent, CEO of Broadbent Selections. Bartholomew was named as one of the "fifty most influential people in the wine world" by Decanter Magazine. He is also widely considered to be one of the world's foremost authorities on Port and Madeira. Learn more about Bartholomew Broadbent.
Cezar Kusik, Fine Wine Specialist, Fourcade & Hecht Wine Selections.
Rob Renteria, Wine Director at Napa Valley's Martini House.
Location: Incanto Italian Restaurant & Wine Bar.  Situated in the heart of one of San Francisco's most charming residential neighborhoods, Incanto's rustic Italian setting, with its handcrafted stone, antique brick and woodwork, 16th century Latin parchments, and private dining room dedicated to poet Dante Alighieri, provides a uniquely warm and inviting dining environment.
Incanto's daily-changing menu honors old-world traditions including house-cured meats, unusual regional pastas, fresh local seafood and a commitment to sustainably grown and harvested produce. Incanto's award-winning wine program features one of the most diverse Italian wine lists in the United States and an ever-changing lineup of more than twenty wines by the glass, half-glass, half-liter, and flight.