"I want a 90 point wine," Peter Koehler tells me. I think to myself that it's certainly good to have goals. "I want to be one of the twenty most recognized wineries," he adds. His comment sinks in and, yes, that's more specific. After all, Koehler Winery sits on the "Fifth Avenue of wines" in Santa Barbara County. He is referring to Foxen Canyon Road, just north of tiny Los Olivos, a beautiful stretch of pavement that is home to many well-known wineries in Santa Barbara wine country. The Koehler's acquired the property in 1997 and they went through a handful of winemakers who produced good wine.
But a few years ago the re-defined goal became to produce great wines at an affordable price. The Koehler's decided they didn't want merely good wine, they wanted outstanding. What better way to get a 90 point wine than to bring on board a known 90 point winemaker?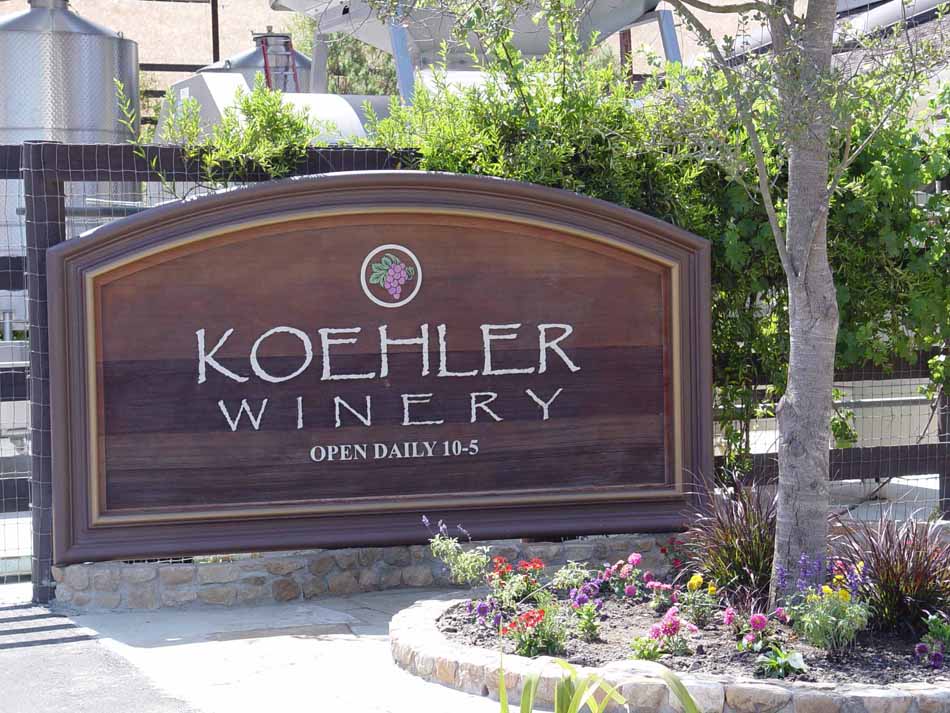 Up in Napa, it just so happened that Chris Stanton was looking to make his move out of the valley he'd grown up in. "Santa Barbara, the way it is now, reminds me of Napa in the 1970s," Stanton says. "Napa is so hard to get around in now, it's so congested." Stanton worked at several wineries in the area, but one in particular caught Koehler's eye. At Mayo Family Winery in Sonoma, Chris Stanton was responsible for pulling in a slew of 90+ point scores from the national wine press during his tenure as winemaker. Bingo. The offer was made and Chris and his family moved to Santa Barbara.
Stanton is notoriously simple about his process of making wine. "I'm just taking what the vineyard has to offer, doing as little as possible to it and getting a bottle of wine out of it," he says off handedly as we sit outside near the tasting room on a crisp, late winter day. He oversees 65 acres of grapes on the Koehler property, most of which were planted in the early 1970s, including cabernet which is not known for being the most promising variety in Santa Barbara. "I'm out to prove that we can make a nice cab that's affordable," he says, referencing the astronomical prices that Napa demands for their cabs. He plans to bottle a 100 percent cabernet soon. "There's a section that I pruned to one ton per acre, non-irrigated. I'm using new oak and extended fermentation. I have high hopes for our cabernet."
He also produces a blend called Magia Nera, a cabernet and sangiovese combination that received "Best in Class" at the 2008 San Francisco Chronicle Wine Competition. Additionally chardonnay, sauvignon blanc, riesling as well as grenache and pinot noir round out the Koehler offerings. So time will tell of his success with cabernet in the middle of what is increasingly becoming Rhone wine country. And it was the 2005 Estate Syrah that brought Stanton and Koehler what they were looking for. Robert Parker scored it a 93, and their 2005 pinot noir scored 90 points from Wine Enthusiast magazine. But after all, they're just numbers, right? "Unfortunately, we live and die by those scores," Stanton reluctantly admits.
But scores or not, 28 years as a winemaker does have its rewards. Stanton still loves the business. "It's better than ever," he tells me. Is that because of all the advances in technology, I ask him? "No, the lack of it," he says. "Winemaking works out better with a low tech approach." And to Stanton, that means doing away with what every winemaker learns from day one; chemistry. "This past harvest we hardly did any analysis at all. I gave up checking the brix halfway through the harvest. I'm at the point in my life where it's the same result whether we do the chemistry or not," he says, shrugging his shoulders.
After nearly thirty years of making wine, he should know. "I know people who get obsessive with the lab work and the chemistry. But if it tastes good, it doesn't matter what the chemistry is, and if it doesn't taste good it doesn't mater what the chemistry is either." And therein lays the simplicity of Stanton's world. "If you start looking at the numbers too closely," he says, "then you end up manufacturing a wine. I'm enjoying making wine and being more relaxed about it," he says. After all, this is Santa Barbara, still somewhat unassuming, not the frenetic Napa Valley.
He swirls the wine in his glass as a strong ocean breeze is funneled through the Koehler property, keeping the vines just cool enough. The recent rains have produced verdant green hillsides, similar to where Stanton grew up. He takes in the surroundings, like someone still in awe of his new environment. "At Koehler, we're perched for producing some really nice stuff," he says quietly, a shy smile telegraphing his enthusiasm for the future of Koehler wines. Not one to seek out the spotlight, the man certainly knows how to turn out wines that take center stage.