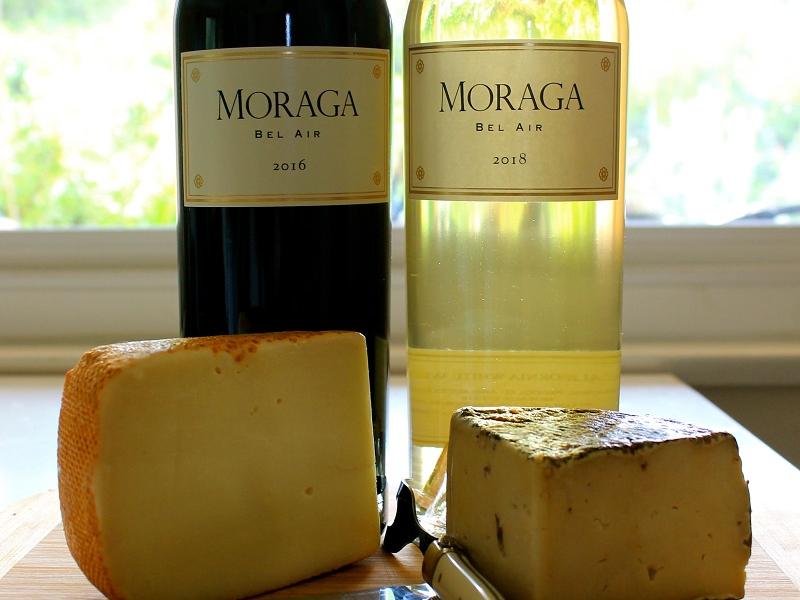 When Moraga Bel Air invited me to do a wine and cheese pairing via Zoom, I was enthused. No, I have never had their wines but had been invited to their estate several times but could never make it. If you're not familiar with Moraga Bel Air, it's because the winery and vineyards are located in Los Angeles County, not wine country. Bel Air is an affluent pocket of wealth located between the 405 Freeway and UCLA. Which means, this isn't rural agricultural land at all, it's urban. But just 150 years ago, grapes thrived here, in Malibu and around the foothills of Los Angeles. So, in a sense, Moraga is true to its heritage, it's the gentrified homes that are not.
They only make two wines, a white and a red. "Since 2005,where we built the winery, it has been an all estate program," winemaker Scott Rich tells me. Though grapes were planted in the early 1980s on the property, the actual wine production was done at an outside facility. There was some initial talk about identifying a Moraga Canyon AVA. The label designates the wine as "California" appellation and I was curious why. "Chances are TTB wouldn't have granted us the application because this is a primarily an urban setting not, agricultural," Scott says. And rather than their label stating "Los Angeles," they felt it best to use the broader California designation. But in a sense, California on the label is misleading, too. This is a unique pocket of land, a vineyard unto itself, a scant few miles from the ocean.
My Zoom with Scott and a few other wine writers gave us the chance to not only learn about, and taste the wines, but to pair them with two cheeses from the Beverly Hills Cheese Shop, who have been working with Moraga for decades. I've always been a fan of wine and cheese as the ideal pairing, but the two cheeses surprised even me. The whole of the tasting was exceptional. And the beauty of wine and cheese is that you need not have expensive wines and cheese, the combo works on so many varied economic levels. It is important however to play, be curious and adventurous with your pairings.
Moraga 2019 White ($115): (Sauvignon Blanc, clone 1) Quiet and nearly shy, this offers the feel, not of summer as you might imagine for a Sauvignon Blanc, but spring – the idea of newness and freshness. This offers lemon drop candy, lime kefir, sweet resin, white peach. Using native fermentation, 20% of the wine went into oak (only for a few weeks), the other 80% into stainless steel and kept on the lees.
Cheese: Figaro, an artisanal goat cheese from Australia, wrapped in vine leaves, aged three-months. The first whiff of this demonstrates its pungency. Super soft, in the palette there is tart lemon lime, and a dusty earthy funkiness. The wine accentuates the cheese specifically on the back palate, give rise to the pungency, offering a little explosion as on the finish.
Moraga 2016 Red ($175) – (Blend of 78% Cabernet Sauvignon, 21% Merlot, and minuscule amounts of Petite Verdot and Cabernet Franc). 100% new French oak was used to age, 18-22 months. There is mild acidity, soft tannins, muted black cherry, blueberry, boysenberry, plum, sweet tobacco, yet still bright without being fruity. There are back notes of alpine grasses, light herbs, a hint of strawberry.
Cheese: Etkori, a Basque sheep's milk. On its own the cheese offers little on the nose, which at first seems surprising. But this very soft cheese is subversive in the mouth. There are gentle notes of summer grass, lemon curd. The wine offers an initial kick when it reacts with the cheese, a burst of acidity and an accentuation of the fruit.