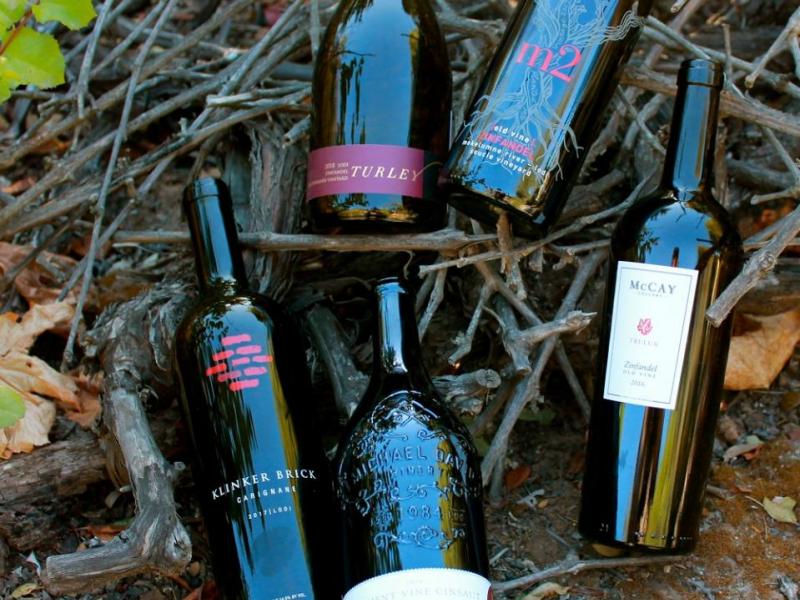 When I was on the island of Crete, I put my hands on trees that were planted well before Jesus was born. And there were lots of them. Known as the Olive Trees of Vouves, they are gnarled, twisted, malformed things that are, to me, so beautiful. It's no surprise to most of us that trees can live thousands of years – in California the giant redwoods have been dated to 3,000 years old. But grapevines too have longevity.
When I visited Spain I was at wineries that had vines well over 120 years old, many around 140, still bearing fruit. Here in the U.S. we also have what is loosely called "old vine," and "ancient vine" on wine labels. These are not official designations as wineries use "old vine" for vines that are maybe 30-50 years old. That's not really old. But as vineyards surpass the 100-year mark, well, that's something different. There are many wines made from these older vines. A few examples include Canard Vineyard in Napa who make a reserve Zinfandel from 137 year-old vines; Saucelito Canyon in San Luis Obispo who make a Zinfandel from grapes that were planted in 1880 and are still on their own rootstock. And there's Deaver Vineyards in the Sierra Foothills with Mission grapes planted around 1870. And there are many other examples.
"The Historic Vineyard Society (HVS) believes that living historic vineyards are deserving of special recognition and treatment due to their unique beauty, the information they provide as to past agricultural and social practices, their growing commercial significance and the fact that they provide an important living repository for wine grape budwood, and genetic material," says HVS secretary Mike Dildine. HVS has catalogued many old vineyards throughout California and offers occasional tours of these vineyards. But farming an old vineyard is not an easy task. And frankly, who cares if a vineyard is old if the fruit is no good? Sure, there is a sense of longevity, a desire to be part of a chain of caretakers after 130+ years, but often the grapes aren't perfect. "It's not unusual for us to have 26 brix, a pH of 3.3, and TA of 0.9 so that's ripe fruit," suggests Bill Greenough, owner of Saucelito Canyon Winery. "We don't need to do much or add anything, but the fruit is inconsistent. We'll have one cluster that's not dimpled, next to it is one with 60 percent raisining." As I examined said clusters with Bill at his historic vineyard, they are all over the map; small, fat, red and green and that makes for a tougher fermentation. "The only difficulty with fruit from the old vineyard has been stuck fermentations," says Bill with a laugh that suggests he's been through this far too many times. "It's rare when they don't stick, I think it's the low pH and high acid."
Lodi is one such region that lays claim to probably more true old-vine plantings than any place in California. I recently undertook a tasting of some of these old-vine wines to determine just how fresh they can be. The other point to make is that these aren't rare, hard to find wines that have outrageous price tags. What they are, not to sound too much like a bumper sticker, is living history. We have the ability to taste history in our glass. To that point, a few years ago I was invited to Champagne Bollinger in France along with other select media. There, we tasted through vintages from the 1980s, going back to the 1960s, 19050s, 1928 and even 1914. The 1914 Champagne that Bollinger had made was drinking well, though the fruit and acidity had begun to decline. The 1928 was drinking much better. But after the formal tasting, we had lunch in the garden and all the wines we had tasted were stretched out on a table for us to drink with lunch. I grabbed the 1914. I assure you it was not because it was a superior wine, but because of its historical context – World War I was just beginning in 1914 and it would wreck havoc with the vineyards of France. As I sat there, I couldn't help but wonder what life was like in 1914 in the vineyards I was surrounded by.
The wines listed below are all very affordable wines, something unique, and will be an experience when understood in their context. I've included with each wine something that happened in the year the grapes were planted. Let it soak in. I'm not a fan of ripping up older vineyards while they still produce stellar fruit, only to plant the trendy new thing. The more we respect history, and agricultural history, the better we understand not only our agrarian roots, but what the earth and nature does for us. If you get the chance to drink any wine that has some age on it, I encourage you to do a little research on its vintage year. What was happening in the world then? And what's happening in your glass now?
M2 Old Vine Zinfandel ($32) Planted 1916 - (During the Mexican revolution, Pancho Villa leads an attack in New Mexico, killing 12 U.S soldiers) This offers up notes of black cherry, pomegranate, rhubarb, a slight raisin note, while the judicious use of oak helps support the fruit. There is still a plushness to the wine something that rounds out in the mouth, and that hits all the corners making this a very enjoyable wine.
Klinker Brick 2017 Carignane ($25) Planted 1909 – (Inventor Leo Baekeland patents the first thermo-setting plastic, Bakelite, sparking the birth of the plastics industry) This is a subversive wine, tasting like something that was just made yesterday in spite of the age old fruit. Pomegranate, mocha black cherry, Japanese black plum, with back notes of green tea, wildflower lavender, and rose hips.
Turley 2018 Lodi  Zinfandel ($32) Planted 1915 (After the French try to drive the Germans forces back into the Champagne region during World War I, they only gain a few hundred yards - at the cost of 50,000 casualties) The fruit coming from these particular vines does show maturity that some of the other ones listed here do not. There is ample black cherry blueberry and boysenberry but there was also a slight raisin quality, plum, and earthiness. The light oak treatment mitigates some of that but there was still a sense of age to this wine, which can also speak to maturity and a delightful sense of embracing what is in your glass.
Michael David Winery 2018 Ancient Vine Cinsault, Bechthold Vineyard ($25) Planted 1886 – (Jacob's Pharmacy in Atlanta sells the first Coca-Cola, which really contained cocaine) These vines are believed to be the "oldest living representation of Cinsault in the world," according to the winery. Settled and almost subversive this wine sneaks up with delicate floral aroma's, cranberry, blackberry, black cherry, cedar. The overall flavors may sound obvious but the compelling part of this wine is that it is unlike other wines on the market. Certainly there is a maturity to this fruit, it's not bright and spring time fresh, it is more aged fruit that feels comfortable on the palate.
McCay Cellars 2016 Trulux Vineyard Zinfandel ($35) Planted 1940 (Color television, the aerosol spray can, the Slinky, and Silly Putty were all invented) This leans toward the jammier nature of Zinfandel, but with an impressive brightness and acidity for these 80 year old vines. Plum, cranberry, black cherry, raisin and spice, and red delicious apple set it apart.
To explore more wines and historic vineyards, use the following links.