Valentine's Day is right around the corner which means lovers across the globe will be seeking out the right wine to romance their dates with for the evening. With this in mind, I bring you the IntoWine guide to Valentine's Day wine: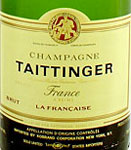 First let's handle the issue of chocolate. Despite popular opinion, wine and chocolate are actually quite difficult to pair as either the sweetness of the chocolate overwhelms the wine or, in the case of sweet wines like Port or dessert wine, the sweetness of the wine overwhelms the chocolate. So what do you serve? I find champagne to be the ideal wine pairing for chocolate as it offers a distinct contrast to the sweet chocolate in both taste and texture. Plus the bubbles can only serve to enhance your Valentine's Day mood. My recommendation: Try the Taittinger "La Francaise" Brut Champagne. An authentic, quality champagne but, at approx $35,  not so expensive you'll break the bank either. 
So what if you aren't seeking a wine to pair with chocolate and instead just want the right wine to sip by the fire while you romance your date? I have two suggestions for you: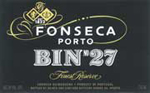 1. Port - Port may well be God's gift to after-dinner dessert wines. It comes in many forms - tawny, ruby, late bottled vintage, and vintage among others - and choosing the right type will make all the difference in making your Valentine's Day a success. Unless you and your date are experienced port drinkers, avoid tawny ports as they tend to be more "brandy-esque" in taste. Instead focus on ruby, late bottled vintage, or a vintage port as these will be sweet, fruit forward, robust, and silky - all factors that should add intrigue to your Valentine's Day romancing. If you would like a specific suggestion, check out the Fonseca Bin No 27 Special Reserve Porto.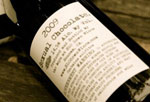 2. Sexual Chocolate - Yes, that's the real name of the wine. A blend of Zinfandel and Syrah by SLODownWines, this wine, as the label implies, this wine gets right to the point. Drinking wine is supposed to be fun right? Imagine the look on your date's face when you break this bottle out on the couch after dinner. 
Cheers to getting your Valentine's Day groove on!