Wines to Go Buy This Week: An "Italian-fusion" California Red by Bargetto and Tahbilk Marsanne, a deliciously rare single varietal white. 
This past weekend we filmed the latest round of IntoWineTV videos (the first video will be live in about a week, we're moving away from wine reviews to wine discussions. Sort of a wine version of The View if you will). As is typical when we film IntoWineTV, the cast and crew had the luxury of indulging in many fantastic wines. Heck these shoots have almost become an excuse for everyone involved to share their latest wine faves. Over the course of the weekend I discovered two wines that made me do a double take and which are the basis for this week's "Wines to Go Buy This Week":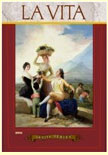 La Vita, Bargetto Family Estate, Santa Cruz Mountains, 2006 - This wine arrived in a recent California Wine Club Signature Series shipment (and kudos to CWC as yet again they delivered a hit. I love the Signature Series.). La Vita is an unusual California red blend in that it is made from the traditionally Italian varietals of Dolcetto, Refosco, and Nebbiolo. Traditionalists may scoff at the notion of a California producer making its version of an Italian red -I'm just waiting for someone to complain that this wine has "no sense of place" - but the end result is a delicious wine that reflects qualities of both California and Italy. If this were a restaurant this wine would be labeled "Italian fusion". No it's not authentic or traditional but it is delicious, unique, and well worth a try (though at $60 a bottle, it's hardly a value buy). Buy Bargetto La Vita

Tahbilk Marsanne, Central Victoria, Australia, 2002 - Marsanne is one of those delicious white varietals -like Riesling- that always makes me wonder why Chardonnay is so popular. Marsanne is a varietal most commonly used in the Rhone whites of French. It's a difficult grape to grow as it can stand neither overly hot nor overly cool climates. In that sense it's not dissimilar to pinot noir. Alas, a few producers around the globe produce Marsanne as a single varietal bottle. Tahbilk Vineyards of Victoria, Australia has Marsanne vines that date back to 1927, some of the oldest in the world. Tahbilk's Marsanne is simply delicious. One sip and you immediately know you discovered a gem of a wine. It has a flowery nose and tastes of melon and honeysuckle. It's low in alcohol and is sooooooo easy to drink. A single sip makes you immediately want more. At $10-$15 a bottle it's well worth seeking out for even the most budget conscious.   
Frequently asked questions about Wines to Go Buy This Week