Wines To Go Buy This Week - 2014 Bernard Baudry "Les Grezeaux" Cabernet Franc – 89 POINTS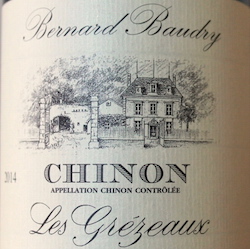 Not all Cabernet is Sauvignon; there is Cabernet Franc as well. Cabernet Franc traces its birthplace in France to the 11th Century and the flash point for deep rich Cabernet Franc is Chinon in the Loire Valley where stony gravel sits atop clay and silica subsoil creating wines of depth and texture. Domaine Bernard Baudry has been producing Franc since 1975 and the son, Matthieu, is now winemaker. The fruit from this wine come from decades old vineyards. Manually harvested, the Franc is fermented 15-20 days in cement vats, then twelve months of aging in three to five year old oak barrels and is bottled, unfiltered, two winters after the harvest. "It's not one or two techniques," Matthieu says, "it's a hundred different small decisions." The Domaine is known for meticulous farming and this Franc displays classic notes of Chinon Franc of pomegranate, rhubarb, bing cherry and black cherry, toasted walnuts, lavender, honeysuckle, and red delicious apple at once both earthy and mineral driven with moderate tannins.
Origin: Chinon, Loire Valley, France
Average Price: $28/ 750ML
Alcohol: 13%
Pair With: Grilled duck, pate, goat cheese, stews.
Availability: Limited
Website: www.bernardbaudry.com
For more than 25 years, The California Wine Club founders Bruce and Pam Boring have explored all corners of California's wine country to find award-winning, handcrafted wine to share with the world. Each month, the club features a different small family winery and hand selects two of their best wines for members.