Wine of The Week - 2016 Terlato Friuli Pinot Grigio – 90 Points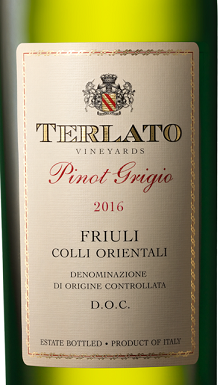 Pinot Grigio has long had a reputation of being an afterthought wine; a second cousin twice removed from Chardonnay. It's usually perceived as a mass-produced innocuous wine with little to no flavor. Certainly there are those examples out there on store shelves, but there are also Pinot Grigio wines that embody the subtle complexity that actually should be in Pinot Grigio, iterations that offer aromatics, minerality and understated flavors. Terlato's vineyards in the Northeast part of Italy in Friuli, and grown in soils rich with calcium and limestone, lays the foundation for a very effective wine. The nose reveals subtle honeysuckle and once it hits the palate there is lemon-lime, white peach, faint pear, apricot, red delicious apple, sweet amber, honeysuckle and kefir lime. There's a medium finish but the acidity runs throughout and it offers enough flavor to make you rethink Pinot Grigio. It certainly won't overpower any of your foods, but that's exactly the point. Pinot Grigio is a supporting player and the better versions, like Terlato's, coax nuances out of the wine, surprising you along the way.
Average Price: $23/ 750ML
Alcohol: 13%
Pair With: Angel hair pasta with garlic, herbs and Parmesan cheese; Yellowtail sashimi with fresh wasabi; Roasted shrimp with sage, pancetta and watercress.
Availability: Widely Available
Website: www.TerlatoVineyards.com
For more than 25 years, The California Wine Club founders Bruce and Pam Boring have explored all corners of California's wine country to find award-winning, handcrafted wine to share with the world. Each month, the club features a different small family winery and hand selects two of their best wines for members.