Wine of The Week - 2016 Sauvignon Blanc – 93 Points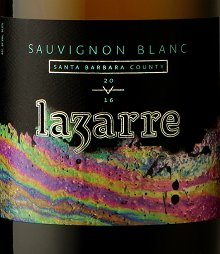 Adam LaZarre has been making wine a long time, but by his own admission, this Sauvignon Blanc, with grapes from the Santa Ynez Valley, is one of his most satisfying. Indeed stunningly sublime it offers a pure nose of honeysuckle, peach and pear, earthy resin, honeydew melon and sweet almond. This however is merely the beginning of the sensory intrigues of this wine. On the palate there are herbaceous notes, grapefruit, Myer lemon, kiwi meringue, apricot compote, and a slight cheesecake note, along with a vibrant, electric acidity, making this very compatible with food. It's 100% Sauvignon Blanc, aged six months in stainless steel, and lees stirred. As Adam admits, "The hand pick was 2:45 a.m. to 5: 30 a.m. – I know, I was there." That's no surprise for a winemaker who takes his craft so seriously. Sauvignon Blanc is not on everyone's radar, but this iteration might woo classic Chardonnay and trendy European white wine drinkers over the fence line on to steady ground.
Average Price: $22/ 750ML
Alcohol: 14%
Pair With: Steamed clams with white wine, garlic and butter sauce; Blackened salmon, cheese and jalapeno croquettes with caper tartar sauce; Deep-fried chicken fritters with avocado-lemon sauce.
>Availability: Very Limited (170 cases)
Website: www.lazarrewines.com
For more than 25 years, The California Wine Club founders Bruce and Pam Boring have explored all corners of California's wine country to find award-winning, handcrafted wine to share with the world. Each month, the club features a different small family winery and hand selects two of their best wines for members.