Wine of The Week - 2016 Gallica Albariño - 90 Points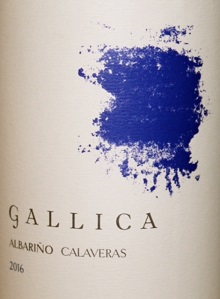 Albarino is one of Spain and Portugal's signature grapes, but Albarino from California is another matter altogether. Typically forgettable when grown in California, Gallica has found the secret to Albariño's success by finding the correct vineyard - this one from Calaveras County - a plot at 2,100 feet elevation, and treating it with enough love that, though it stylistically differs from its Spanish brethren, it is successful in its own right. Rosemary Cakebread jazzes up this 2016 iteration with the addition of 14% Muscat Blanc adding a floral complexity, which enhances this wine without making it perfume-laden or over the top. The defining acidity opens the door to lemon-lime curd, peach and pear, hibiscus and rose water, jasmine and honeysuckle, with back notes of baked Brie and candied almond. The wine was fermented in a combination of stainless steel and neutral oak and wasn't racked, therefore the less intrusive nature of moving wine from vessel to vessel was avoided and the wine stays close to a pure state. The Albarino vines themselves are about 15 years old and clearly show bright crisp fruit.
Average Price: $38/ 750ML
Alcohol: 14.5%
Pair With: Mahi mahi with béarnaise sauce and fresh thyme; Grilled chicken with herbs du Provence; Honey brined pork chops with nectarine chutney.
Availability: Very Limited/216 Cases
Website: www. Gallicawine.com
For more than 25 years, The California Wine Club founders Bruce and Pam Boring have explored all corners of California's wine country to find award-winning, handcrafted wine to share with the world. Each month, the club features a different small family winery and hand selects two of their best wines for members.