Wine of The Week - 2016 Albatross Ridge Pétillant Naturel Pinot Noir Rose - 91 Points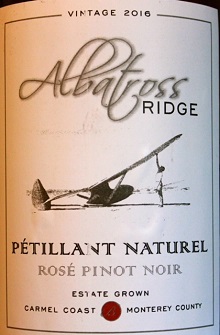 Pét-nat's have become something of a fad lately and many of them, though meant to be lighter in style, are merely a flash in the palate. Pétillant Naturel, known more commonly as pét-nat is, in essence, wine that hasn't finished fermenting before it's bottled. The yeasts and grape sugars that remain continue to ferment in-bottle, creating carbon dioxide, which gives you bubbles. This method is actually older than traditional méthode Champenoise. The Albatross Ridge iteration however turns the corner on how good and complex pét-nat can actually be. Whole cluster pressed Pinot Noir from their Monterey County vineyard (clones 777, 115 and Pommard) is fermented dry in barrel, then bottled with a dosage. There is a surprising depth to this pét-nat and a delicate, bright fermentation. It offers notes of rhubarb, cranberry, kiwi-lime, rose water, and hibiscus and is fully fleshed out, potent and earthy with a gleaming acidity and a pure line of minerality. Given the fermentation style, the carbonation will dissipate so if you save this for the next day it will not hold its brightness. The flavors coaxed out by Albatross Ridge will have you enjoying this faster than you thought and will introduce you to a category of wine worth exploring.
Average Price: $40/ 750ML
Alcohol: 12.8%
Pair With: Carnitas tacos; Curry glazed lamb shank; Alsatian leek and onion tartlets.
Availability: Very Limited/Under 200 cases
Website: www.AlbartossRidge.com
For more than 25 years, The California Wine Club founders Bruce and Pam Boring have explored all corners of California's wine country to find award-winning, handcrafted wine to share with the world. Each month, the club features a different small family winery and hand selects two of their best wines for members.