Wine of The Week - 2015 Decoy Sonoma County Merlot – 90 Points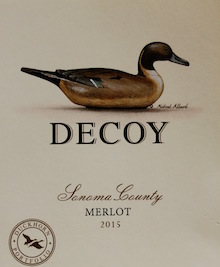 In spite of being the third most widely planted grape in California and being one of the primary grapes in Bordeaux, Merlot still has an uphill climb for respectability. Napa lays claim to a lot of Merlot but Sonoma County also produces wonderful Merlot's that are often under the radar, overshadowed by either Napa or Cabernet Sauvignon. The 2015 Decoy Sonoma County Merlot is one of Sonoma's answers to the respectability question of Merlot and it succeeds very well. Comprised of 92% Merlot with small amounts of Cabernet Franc, Cabernet Sauvignon and Petite Sirah, and then aged in brand new French oak; the result is a wine of soft mild tannins and gentle acidity. The flavors produced with this lovely wine include notes of blackberry, black cherry, blueberry compote, judicious oak and moody tones of cocoa powder and cranberry. Though that sounds like a lot of fruit, the flavors are restrained making this is a very easy drinking wine, smooth and comfortable.
Average Price: $25/ 750ML
Alcohol: 13.9%
Pair With: Pan sautéed chicken breast with fresh morels and Champagne-cream reduction; Roasted leg of lamb with fava beans; Leek and potato soup with crème fraiche.
Availability: Widely available
Website: www.decoywines.com
For more than 25 years, The California Wine Club founders Bruce and Pam Boring have explored all corners of California's wine country to find award-winning, handcrafted wine to share with the world. Each month, the club features a different small family winery and hand selects two of their best wines for members.