Wine of The Week –Thanksgiving Edition: 2014 Ehlers Estate Cabernet Franc - 93 Points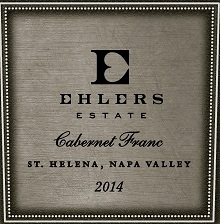 Cabernet Franc is not a calling card for Napa Valley. The cousin to Cabernet Sauvignon, Franc is often used as a blending partner, and occasionally as a stand-alone wine. But at Ehlers Estate in St. Helena, Cabernet Franc has always been part of the portfolio and was planted prior to the Ehlers securing the property. Ehlers' first vintage under their own label was in 1990 and though not widely promoted, it has been available ever since. First they hand sort the clusters, de-stem them, then hand-sort berries, ferment using native yeasts and do an extended maceration lasting three to four weeks. Aging is in 100% French oak barrels, 50% of which are new. The result is a beautiful and compelling wine offering lithe and supple mild blueberry and blackberry notes, dried apricot, raspberry, and cranberry compote, cedar, sage and whispers of rhubarb and mint. Though fleshy and with a solid acidity, it is ripe without being overwrought - more subdued and feminine, plush and soft. The sensitive tannins and spot-on balance of all its parts make this a very pleasant wine.
Average Price: $60/ 750ML
Alcohol: 14.2%
Pair With: Classic roasted turkey with crispy prosciutto and sage stuffing; Porcini and Chanterelle risotto with caramelized shallots; Grilled filet mignon with herbed garlic butter.
Availability: Very Limited/Under 200 cases
Website: www.EhlersEstate.com
For more than 25 years, The California Wine Club founders Bruce and Pam Boring have explored all corners of California's wine country to find award-winning, handcrafted wine to share with the world. Each month, the club features a different small family winery and hand selects two of their best wines for members.