Wine of The Week –2016 Dancin Vineyards "Assemblage" Chardonnay - 91 Points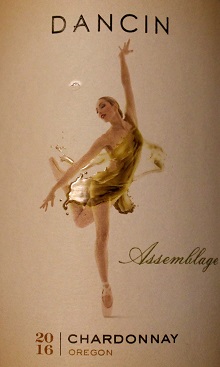 Oregon Chardonnay is not a calling card. Pinot Noir and Pinot Gris rank above Chardonnay in terms of wines produced in this state, but nonetheless Oregon Chardonnay does offer diverse expressions and none quite like the Dancin label from Southern Oregon's Medford region. A subversive Chardonnay that drinks more like an old world Chablis, this is a quiet wine, one that does not announce itself with boisterous oak, ML or anything other than an alluring nod. Only bottled seven months ago from the time of this writing, this is an anomaly - a wine so bright, clean and fresh it belies the stereotype of Chardonnay altogether. It offers subtle notes of kefir lime and pineapple, lemon zest, summer wildflowers, with back notes of baked Brie, and Graham cracker. There is a wonderful compelling acidity, minerality and crispness one does not find often, in spite of the fact this was aged on the lees and hand stirred once a month. In essence, this is the antithesis of the Chardonnay butter bomb, and a reminder of how good and delicate Chardonnay can actually be, and how Oregon continues to express itself with wines that find their own sense of place.
Average Price:A $32/ 750ML
Alcohol: 13.8%
Pair With: Cold leek and potato soup with crème fraiche; Tagliatelle with prosciutto; Dover sole meunière.
Availability: Extremely Limited/100 Cases
Website: www.DancinVineyards.com
VINEBOX is a monthly wine-by-the-glass membership club. Members receive a curated box containing three glasses of wine from all around the world. Each shipment also contains tasting notes, pairing suggestions and some fun facts about where the wine came from. Explore new regions, learn about taste preferences, and get ready to find a few favorite wines with VINEBOX.