Wine of The Week –2014 Lang & Reed Cabernet Franc– 90 Points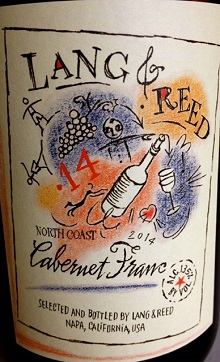 Cabernet Franc is a particular grape. It's home is France's Loire Valley and there are as many expressions of it throughout the 600 mile long valley as there are producers, ranging from earthy and rich, to light and fruit driven. In California, Cabernet Franc is often over treated with too much oak, it's over ripe and has lost is delicate soul with reductive winemaking techniques. Lang & Reed has been at the Cab Franc game for over two decades with fruit from Lake County, Sonoma and Napa and they know how to weave through the nuances of this grape. Their 2014 offers soft and muted notes of cranberry, rhubarb, violet, raspberry and that follows though on the palate with the traditional Loire Valley experience of tight tannins, soft fruit, acidity and minerality and an ability to play well with foods. It's lightly oaked with only eight months of barrel time. If you're looking for an authentic expression of this grape from California, Lang and Reed nails it.
Average Price: $27/ 750ML
Alcohol: 13.5%
Pair With: Goat cheese fritters topped with smoked paprika sour cream; Creamy vegetable risotto with seasonal veggies and Parmigianino reggiano; Crisp roasted duck with rosemary potato cake and pear chutney.
Availability: Limited - 2,998 cases
Website: www.LangandReed.com
For more than 25 years, The California Wine Club founders Bruce and Pam Boring have explored all corners of California's wine country to find award-winning, handcrafted wine to share with the world. Each month, the club features a different small family winery and hand selects two of their best wines for members.