Wine of The Week – Tizona 2014 Old Vine Zinfandel - 90 Points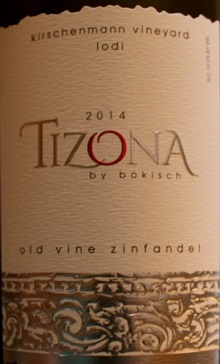 Zinfandel is one of the oldest continuously planted grapes in California, arriving with the influx of immigrants during the California Gold Rush. The Zinfandel vines used in the Tizona stretch back nearly as far, 99 year-old vines to be precise, and like many truly "old vines" in Lodi are own rooted and dry farmed. Compromised of Zinfandel with 2% Graciano, the fruit was harvested in early September 2014. The wine was then aged for 17 months in both new and neutral French oak barrels and then bottled-aged seven months prior to release. The wine offers flavors and aromas of blackberry, black cherry, blueberry, raspberry, boysenberry and ripe plum, flanked by vanilla, cedar, sage, spice and candied orange. There is a soft but steady acidity running the length of this wine and the tannic structure is mild to moderate and though the oak is evident, it does not overwhelming the delicate fruit. Many old vine Zinfandel has, in essence, lost its luster and just because it's old doesn't mean the fruit is still vibrant. The Tizona however provides robust fruit and a chance to taste authentic old vine Zinfandel.
Average Price: $32/ 750ML
Alcohol: 14.5%
Pair With: Smoked turkey with sage-cornbread stuffing; Seared duck breast with black cherry reduction sauce; Grilled pork tenderloin with garlic mashers.
Availability: Very Limited/200 Cases
Website: www.bokischvineyards.com
VINEBOX is a monthly wine-by-the-glass membership club. Members receive a curated box containing three glasses of wine from all around the world. Each shipment also contains tasting notes, pairing suggestions and some fun facts about where the wine came from. Explore new regions, learn about taste preferences, and get ready to find a few favorite wines with VINEBOX.