Wine of The Week – Millennial 2015 Pinot Noir - 93 Points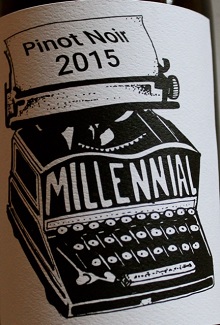 Santa Barbara has earned a just reputation as a solid Pinot Noir producer. There are many notable well-known Pinot's here, but what is happening under the radar in the County is also just as impressive. Millennial Wines, a very small producer based in Lompoc, has turned out a stellar Pinot Noir that can rival some of the bigger producers. Their 2015 Pinot Noir uses clones 777 and 459 sourced from Babcock Vineyards from the Santa Rita Hills utilizing whole berry fermentation, then pressing the berries post fermentation. Barrel aging lasted 15 months in oak, 30% of which was new French oak. The result is a wine that is highly drinkable, with a tremendous round mouth feel and immensely satisfying. There are notes of red raspberry, rhubarb, wild strawberry, black cherry, clove, cinnamon, spice, and cola. A bright acidity runs though this effortlessly providing a litany of potential food pairings. The oak is minimal and proper and the finish is all red fruits and pepper spice. Even after being opened for 24 hours this wine still retains its initial vivid, fruit driven intensity.
Average Price: $38/ 750ML
Alcohol: 13.9%
Pair With: Lavender/Fennel-Ricotta crostini; Rosemary and cracked pepper crusted lamb shank; Parmesan and eggplant soufflé.
Availability: Very Limited, 54 Cases
Website: www.millennialwineclub.com
For more than 25 years, The California Wine Club founders Bruce and Pam Boring have explored all corners of California's wine country to find award-winning, handcrafted wine to share with the world. Each month, the club features a different small family winery and hand selects two of their best wines for members.