Wine of The Week – Left Coast Cellars 2016 White Pinot Noir - 90 Points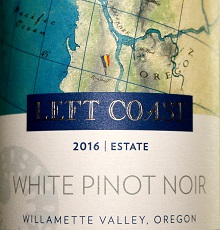 Oregon is known for Pinot Noir. The Van Duzer Corridor it is the only break in Oregon's Coastal Range that borders the western side of the Willamette Valley. This gap allows Pacific Ocean air to flow eastward into the Willamette, moderating the summer heat. Cold air rushes through the corridor and temperature fluctuation can be considerable, up to 30 degrees daily. Left Coast Cellars sits in this corridor. In 2011 their harvest of Pinot Noir was slightly under ripe due to heavy rains that vintage. So they pressed out what they had and created this wine, a white point Noir, which is now a staple of their portfolio. Made of Pommard, Wädenswil, Dijon, 115, 667, and 777 clones, the fruit is gently pressed, stainless steel fermented and then sur lee aged for four-five months. What is produced are notes of wild strawberry, lime meringue, summer melons, white peach, apricot and orange zest. This is complimented by a bright acidity and minerality. This is a fun, unique refreshing wine with a myriad number of food pairings.
Average Price: $24/ 750ML
Alcohol: 14.1%
Pair With: Chinese Cashew Chicken; Fettuccini Alfredo; Goat cheese salad with candied walnuts.
Availability: Widely Available, 3,000 cases
Website: www.LeftCoastCellars.com
For more than 25 years, The California Wine Club founders Bruce and Pam Boring have explored all corners of California's wine country to find award-winning, handcrafted wine to share with the world. Each month, the club features a different small family winery and hand selects two of their best wines for members.