Wine of The Week – Father's Day Edition - 2014 Shafer Vineyards One Point Five – 92 Points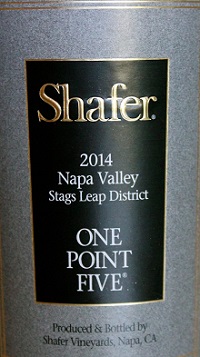 Cabernet is king in Napa's Stag's Leap District and Shafer is certainly at the forefront of stellar wines in this AVA. Their One Point Five (which references the generation and a half between father and son) is comprised of 95% Cabernet with tiny amounts of Merlot, followed by Malbec and Petit Verdot. The wine rested for 20 months in all new French oak barrels of Allier and Troncais woods. The nose is classic Cabernet; dark berry fruit and sweet oak, a thrill to the senses. The palate reinforces the generous nose with black cherry, brambly blueberry, and black berry with moderate to tight tannins, soft oak and mild acidity along with back notes of muted licorice, plum and rhubarb. It is soft, playful and not at all aggressive - it's more an old friend. But it is the completeness of the parts that make this wine stand out, in a word - balance. To be sure Shafer has extraordinary fruit from their estate, but they also let it shine with minimal intervention, thus you drink a wine that is a sheer pleasure.
Average Price: $90/ 750ML
Alcohol: 15.3%
Pair With: New York strip steak with blue cheese-butter sauce; Roasted lamb with rosemary Port reduction; Pasta, ham and vegetable gratin with Gruyere.
Availability: Widely available (9,000 cases)
Website: www.shafervineyards.com
For more than 25 years, The California Wine Club founders Bruce and Pam Boring have explored all corners of California's wine country to find award-winning, handcrafted wine to share with the world. Each month, the club features a different small family winery and hand selects two of their best wines for members.