Wine of The Week – 2016 Martini Prosecco – 90 Points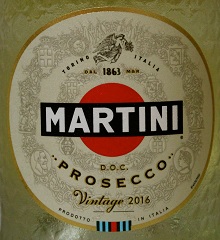 Martini has been making wine in Turin, Italy since 1862, but has not often made a declared vintage iteration of Prosecco. Less expensive than Champagne, Prosecco offers not only a great alternative, but in many ways a much different expression of a sparkling wine, usually with less yeast and biscuit notes. Made from Galera grapes the carbonation is bright and clean with medium sized bubbles that offer white pear, peach, green apple, honeysuckle, kefir lime and a wisp of lemon. Cold fermented and left on the lees for about two months, this offers a stronger viscosity. Typically Prosecco has a relatively short finish but here there is some length and weight on the tongue, making for a refreshing wine, ideal for a summer gatherings. There is a minimal sweetness to this, not at once obvious, but it certainly adds to the overall experience of this delightful Prosecco.
Average Price: $15/ 750ML
Alcohol: 11.5%
Pair With: Deep-fried Mozzarella with anchovy; Grilled sardines stuffed with raisins and pine nuts; Egg coated and pan seared veal chops stuffed with Fontina cheese.
Availability: Widely available
Website: www.bacardilimited.com
For more than 25 years, The California Wine Club founders Bruce and Pam Boring have explored all corners of California's wine country to find award-winning, handcrafted wine to share with the world. Each month, the club features a different small family winery and hand selects two of their best wines for members.