Wine of The Week – 2015 Landmark Overlook Chardonnay - 91 Points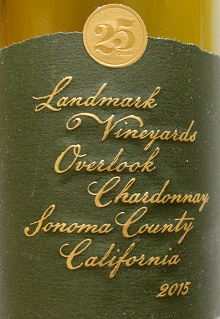 For 25 years Landmark Vineyards has produced what has become a signature wine, the Overlook Chardonnay, yet it is their entry level Chardonnay, not their higher end ones. That speaks well of the quality that Landmark produces. From Sonoma's Russian River Valley this Chardonnay is pulled from 24 different vineyard sites, each of which were whole cluster pressed (a time consuming operation at best), then fermented with native yeasts and aged in French oak, a quarter of which was new oak, for 10 months. The result is a wine that is bright, crisp and clean with honeysuckle, green apple, butterscotch, lemon meringue, lime kefir, a slight saline viscosity and a back note of lavender and lemon drop candy. There are many Chardonnays' on the market but what sets Landmark's Overlook apart is price commensurate with quality and the consistency of a wine with a large volume of production. Not to be overlooked, this wine should be one to try.
Average Price: $25/ 750ML
Alcohol: 14.2%
Pair With: Fettuccine Alfredo with grated lemon zest and a twist of cracked pepper; Twice baked potatoes with broccoli, bacon and cheese sauce; Grilled swordfish fillet with basil lemon butter.
Availability: Widely available - 35,000 cases
Website: www.Landmarkwine.com
For more than 25 years, The California Wine Club founders Bruce and Pam Boring have explored all corners of California's wine country to find award-winning, handcrafted wine to share with the world. Each month, the club features a different small family winery and hand selects two of their best wines for members.