Wine of The Week – 2015 Domaine Carneros The Famous Gate Pinot Noir - 91 Points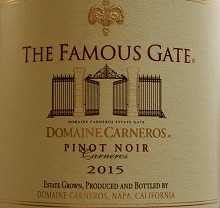 One of the beautiful things about Pinot Noir is that with so many different clones that can go into making it, Pinot provides diverse expressions. In the case of The Famous Gate, a wine Domaine Carneros has made for 25 years, the composition is 87% Swan, 9% Dijon 115 and 4% Pommard UCD-5. It is the under appreciated Swan clone that differentiates this Pinot from many of its brethren, providing a brightness and richness without being overtly jammy, and avoiding any kind of cola notes. Fermented in small open top vats, the wine spent 15 months in French oak barrels before being released. The 2015 exhibits blueberry, boysenberry, rhubarb, hints of strawberry and pomegranate, as well as earthy notes of wet soil, dried fig and fired-tinged cedar. It needs some air time to allow the fruit to begin to develop in the glass and when it does it's as if summer fruits have exploded. Though the acidity is mild and the tannic structure temperate, the overall ripeness and unique make-up of this wine makes this an exceptionally satisfying and drinkable Pinot Noir.
Average Price: $80/ 750ML
Alcohol: 14.5%
Pair With: Fennell and garlic crusted pork roast; Grilled stuffed eggplant with lamb and pine nuts; seared duck breast with pomegranate reduction.
Availability: Moderate – 1,727 Cases
Website: www. Domainecarneros.com
For more than 25 years, The California Wine Club founders Bruce and Pam Boring have explored all corners of California's wine country to find award-winning, handcrafted wine to share with the world. Each month, the club features a different small family winery and hand selects two of their best wines for members.