Wine of The Week – 2014 Williams & Heim Chardonnay - 91 Points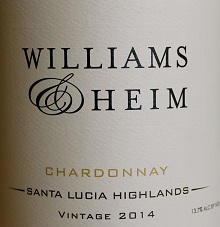 The Santa Lucia Mountain Range in Monterey County separates the Salinas Valley from the Pacific Ocean and Carmel. This is the home of the Santa Lucia Highlands (SLH) AVA and "The Bench" – a literal shelf of land from the foothills, which extends out towards the Salinas Valley, then dramatically drops off. This is prime winegrowing and in fact many excellent Pinot Noir and Chardonnay comes from this vine-laden cliff of land. Case in point: the 2014 Williams & Heim Chardonnay. This 100% Chardonnay was hand picked in the vineyard, then whole cluster pressed and barrel fermented in French oak barriques. The wine sat on the fermentation lees for a year. It underwent malolactic and since it was not cold stabilized, you might fine tartrate crystals. Not to worry. This wine offers upfront lemon curd, kefir lime, honeysuckle and butterscotch, sweet resin and baked green apple, meringue and browned butter cookie at the end. Yes the oak is evident but there is also a poignant focused acidity tempering all the various flavors, which dances on the front and side palate. It deftly balances a rich buttery oaked iteration with the crisp, clean fruit of stainless steel. Unique among Chardonnay, it ideally straddles two worlds.
Average Price: $33/ 750ML
Alcohol: 13.7%
Pair With: Pan seared pork medallions with pesto and garlic; Sautéed Monterey Bay abalone-Meunière-style; Whiskey marinated grilled chicken breasts.
Availability: Very Limited/127 Cases
Website: www.williamsheim.com
For more than 25 years, The California Wine Club founders Bruce and Pam Boring have explored all corners of California's wine country to find award-winning, handcrafted wine to share with the world. Each month, the club features a different small family winery and hand selects two of their best wines for members.