Wine of The Week – 2014 Shafer Relentless - 91 Points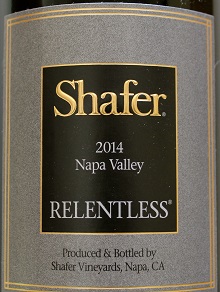 Shafer Vineyards in Napa's Stags Leap District has always been known for Cabernet, to no surprise, as this is stalwart Cabernet country. But they also have championed one of Napa's most under appreciated grapes, Syrah. Their Relentless, first bottled in 1999 has always been a blend of Syrah and Petite Sirah and in the case of the 2014 it's 89% Syrah, and 11% Petite Sirah. The wine spent 30 months in 100% new 60-gallon French oak barrels - both Allier and Tronçais barrels - which softens the Petite Sirah while enhancing the Syrah. Relentless offers beautiful blackberry, black cherry, huckleberry, muted pomegranate and rhubarb, smoked meat with back notes of wild sage, chaparral, vanilla and butterscotch, and a hint of mocha teasing out the finish. It offers moderate to tight tannins and a thoughtful acidity, all bound up in a silky, velvety wine. At nearly 16% alcohol this is indeed a robust wine, but one that offers balance, grace and power.
Average Price: $92/ 750ML
Alcohol: 15.8%
Pair With: Dry rubbed, slow cooked beef brisket; Pappardelle con Ragu d'Agnello – ribbon cut pasta with grilled lamb, tomatoes, and rosemary; Roasted Tai snapper – Forrest mushroom ragout with truffle braised celery.
Availability: 3,300 Cases
Website: www.shafervineyards.com
For more than 25 years, The California Wine Club founders Bruce and Pam Boring have explored all corners of California's wine country to find award-winning, handcrafted wine to share with the world. Each month, the club features a different small family winery and hand selects two of their best wines for members.