Wine of The Week – 2014 Cirque du Vin – 91 Points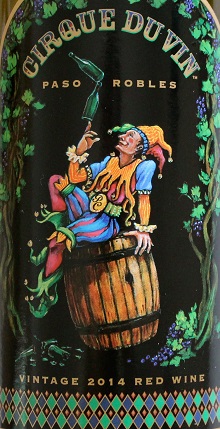 Peachy Canyon is one of Paso Robles' older wineries having started in 1988 by Doug and Nancy Beckett, whose focus has always been Zinfandel. Though they produce a strong line of Zinfandels, they also make other reds and notable for 2014, the Cirque du Vin. Made from 35% Syrah, 25% Merlot, 21% Cabernet Sauvignon, 11% Petite Verdot and 8% Zinfandel, this wine has an amazing array of taste levels. On its face there are notes of black cherry, black berry, plum, boysenberry and blackberry, a solid acidity and a rustic judicious use of oak. As it spends time in the glass additional back notes of sage, fresh thyme and cranberry compote make themselves known. Fermented in stainless steel and then pressed directly into a combination of Hungarian, French and American oak for two years you'd rightfully assume this should cost more. It's relatively easy to make an expensive wine, just add money. But to make an inexpensive wine and do it well, that takes talent and Peachy Canyon's Cirque du Vin is a perfectly executed wine and at a price point that belies its structured components.
Average Price: $19/ 750ML
Alcohol: 14.6%
Pair With: Roast chicken with black pepper-maple glaze; Veal and wild mushroom meatloaf; Grilled poblano chilies stuffed with barbacoa beef and Monterey jack cheese.
Availability: Limited - 2,205
Website: www.PeachyCanyon.com
For more than 25 years, The California Wine Club founders Bruce and Pam Boring have explored all corners of California's wine country to find award-winning, handcrafted wine to share with the world. Each month, the club features a different small family winery and hand selects two of their best wines for members.