Wine of The Week – 2014 Addendum Cabernet Sauvignon, Skellenger Lane – 93 Points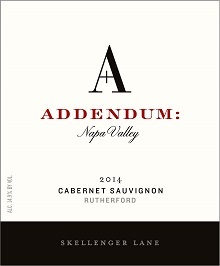 Actor turned vintner Fess Parker formed his eponymous winery in Santa Barbara in 1989. Though Mr. Parker passed away in 2010 his family has continued his aspirations by adding to the winery's offerings from outside of Santa Barbara. From Rutherford, one of Napa's best Cabernet Sauvignon regions, their new venture, Addendum, fresh out of the gate shows immense promise. Addendum is a line of Napa Cabernet Sauvignons and their Skellenger Lane is a ripe opulent, rich and concentrated wine. Spending 28 months exclusively in new French oak there is an obviousness to that decision however the oak, while pronounced, is also well integrated into the structure of the wine, so as to allow the fruit to co-star. The nose is lush, rich, resonant with sweet berry and vanilla oak. There is a wonderful viscosity with this wine; a velvet liquidity. The 2014 offers notes of plum, black cherry, black berry, blue berry, slightly sweet menthol and camphor. It is big and bold but gracious and harmonious, much like Mr. Parker was.
Average Price: $95/ 750ML
Alcohol: 14.9%
Pair With: Venison cheeseburger soup with jalapeno and fresh scallions; Roasted tandoori chicken; Beef stroganoff with shitake mushrooms.
Availability: Very Limited – 116 Cases
Website: www.addendumwines.com
For more than 25 years, The California Wine Club founders Bruce and Pam Boring have explored all corners of California's wine country to find award-winning, handcrafted wine to share with the world. Each month, the club features a different small family winery and hand selects two of their best wines for members.