Wine of The Week – 2013 Primus Cabernet Sauvignon - 93 Points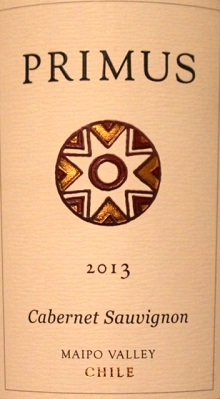 The Chilean wine industry dates back to the mid 1500s with the arrival of the Spanish missionaries who brought grapevine cuttings with them to plant for sacramental wine. 500 years later and Chilean wine is booming with quality wines ranging from inexpensive to high-end. The 2013 Primus Cabernet Sauvignon, which started production in 2008, is grown in alluvial soils in Chile's Maipo Valley and is indicative of how good Chilean wines are, but also how underpriced many of them are as well. After a five day cold maceration, wild fermentation takes place lasting up to 10 days then the juice is moved to barrel for ageing where it undergoes malolactic fermentation. Ultimately it spends a year in French oak barrels, a quarter of which are new, which allows this expressive fruit to shine. The wine offers rich, fresh but restrained black cherry, black berry, blueberry, bing cherry, and dried fig with back notes of vanilla, sage, black pepper and gooseberry. This has a vibrant acidity and mild tannins, but it is the amazing freshness of this Cabernet, the buoyancy and aliveness of this wine, that makes it so compelling. It is, in short, an outstanding robust Cabernet Sauvignon at an incredible price.
Average Price: $19.99/ 750ML
Alcohol: 14.5%
Pair With: Grilled rib eye with Chimichurri; Pastel de Chocio (deep dish corn casserole with chicken and beef stuffing); Twice baked potatoes with broccoli, Cheddar cheese and fresh scallions.
Availability: Widely Available/11,600 Cases
Website: www.primuswines.cl
For more than 25 years, The California Wine Club founders Bruce and Pam Boring have explored all corners of California's wine country to find award-winning, handcrafted wine to share with the world. Each month, the club features a different small family winery and hand selects two of their best wines for members.