Wine of The Week – 2012 Paraduxx Howell Mountain Napa Valley Red Wine - 91 Points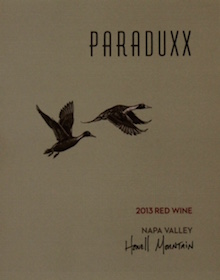 Paraduxx started in 2004 with an express purpose to achieve uniform and consistent success with blended wines over stand-alone wines, all made from Napa Valley fruit. Comprised of Cabernet Sauvignon and 35% Zinfandel, this is that rare two-grape blend that allows both grapes to shine in equal measure. The reason this works so well is undeniably the Zinfandel and how it is grown and treated. Worth noting is that this is Howell Mountain fruit grown in volcanic soils, helping to make this Zinfandel more mature. There is a significant oak expression on this wine, however, making it immensely drinkable, smooth and enjoyable but it doesn't lose its acidity and tannic structure. Aged for 18 months - 60% new French oak - however as noted, the fruit and wood are harmonious. The wine presents blackberry, blue berry black currant, slight boysenberry cobbler, cracked pepper spice, with back notes of sage, anise, mild to moderate tannins and subtle notes of charred vanilla and crème brulee. This is a demonstrative wine and a little time decanting will help to soften it to make it better with food.
Average Price: $80/ 750ML
Alcohol: 14.5%
Pair With: Braised red wine short ribs with Parmesan polenta; Grilled quail with sage and shallots; Pan fried salmon with maple ginger demi-glaze.
Availability: Limited/825 Cases
Website: www.Paraduxx.com
VINEBOX is a monthly wine-by-the-glass membership club. Members receive a curated box containing three glasses of wine from all around the world. Each shipment also contains tasting notes, pairing suggestions and some fun facts about where the wine came from. Explore new regions, learn about taste preferences, and get ready to find a few favorite wines with VINEBOX.