Wine To Go Buy This Week - 2015 LaZarre Wines Albariño - 92 Points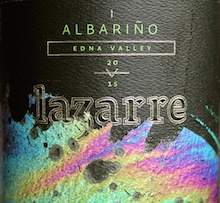 Albariño is one of the those grapes that, in the right hands, presents not only an alternative to the typical Chardonnay and Sauvignon Blanc that is ubiquitous on the market, but takes the best of what you want in a food-oriented white wine, and elevates it in terms of a floral and zesty nose, and comprehensive fruit and acids. And winemaker Adam LaZarre knows how to treat the fruit. Sourced from the Edna Valley, part of San Luis Obispo County, these grapes saw both stainless steel and neutral oak cooperage but the viscous mouth feel comes from a judicious sur-lie aging. In your glass you'll be drawn to lemon-lime, honeysuckle, hibiscus, lime zest, sweet resin, peach and pear juice, fresh nectarine and a near grapefruit note along with a concise acidity and amazingly long finish. Only 44 cases were made, due to poor crop size, so this will disappear quickly. This compelling wine shows how clean and Spanish-like California Albariño can be.
Average Price: $26/ 750ML
Alcohol: 14%
Pair With: Steamed clams in white wine butter sauce; Parmesan Carpaccio topped with lemon juice, white truffle and olive oil; Pansotti in a cream and walnut sauce.
Availability: Very Limited
Website: www.Lazarrewines.com
For more than 25 years, The California Wine Club founders Bruce and Pam Boring have explored all corners of California's wine country to find award-winning, handcrafted wine to share with the world. Each month, the club features a different small family winery and hand selects two of their best wines for members.