Wine To Go Buy This Week 2015 - J Vineyards Pinot Noir – 90 Points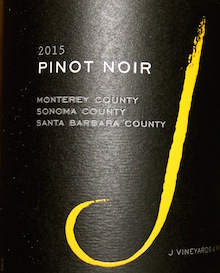 Pinot Noir is the 5th most planted grape in California and produces diverse iterations of Pinot. In 1994 J Vineyards began making Pinot Noir. What's unique about this wine is that it is constructed from diverse appellations; Monterey County's Santa Lucia Highlands (70%), Sonoma's Russian River Valley (26%), and Santa Barbara's Santa Maria Valley (4%), which just happen to be the top three Pinot producing counties in the state, so you have a wine that expresses not only varied growing regions, but the best growing regions for this particular grape. Known as "J Black," this wine presents rich ripe blackberry, black cherry and strawberry, plum with hints of blueberry and lavender, as well as rustic oak and a moderate acidity. What's intriguing about this wine is not only the price commensurate with the quality, but the multi-region approach, making this a kind of benchmark wine. Yes, multi appellation wines have been done before, but three expressive and divergent regions show how the sum is greater than the parts.
Average Price: $25/ 750ML
Alcohol: 14.6%
Pair With: Roasted leg of lamb with balsamic-fig reduction; smoked salmon timbales with goat cheese and fresh chives, creamy lima bean gratin with garlic and Gruyere cheese.
Availability: National
Website: www.JWine.com
For more than 25 years, The California Wine Club founders Bruce and Pam Boring have explored all corners of California's wine country to find award-winning, handcrafted wine to share with the world. Each month, the club features a different small family winery and hand selects two of their best wines for members.