Wine To Go Buy This Week - 2013 Psagot Single Vineyard Cabernet Sauvignon – 89 Points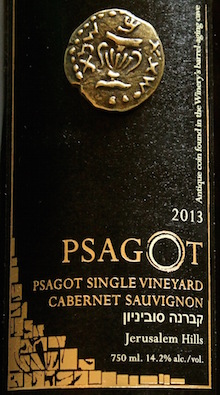 Though Israel is one of the cradles of the wine world historically speaking, most people aren't aware that this region still produces wine. There are currently about 60 commercial wineries and about 300 boutiques wineries in Israel. Psagot started in 2003 and their 2013 Cabernet is 100% Cabernet Sauvignon harvested from vineyards in the Jerusalem Hills at about 900 meters (3,000 feet). This wine was fermented in stainless steel tanks with both pump-overs and punch-downs up to eight times a day. Following a full malolactic fermentation, the wine was aged in French and American oak barrels for 13 months. The result is a wine full of notes of ripe cherry, black berry, blueberry and pomegranate, along with brambleberry, black tea and muted sweet cedar. It offers moderate to tight tannins allowing the fruit to be center stage, a graceful acidity, and a medium finish, allowing for a diversity of food pairings.
Average Price: $70/ 750ML
Alcohol: 14.2%
Pair With: Beef stroganoff with wild mushrooms, roasted turkey with rosemary port reduction, Coquilles St. Jacques with beurre blanc.
Availability: Limited
Website: www.psagotwines.com/en
For more than 25 years, The California Wine Club founders Bruce and Pam Boring have explored all corners of California's wine country to find award-winning, handcrafted wine to share with the world. Each month, the club features a different small family winery and hand selects two of their best wines for members.