Wine To Go Buy This Week - 2012 Maryhill Winery McKinley Springs Vineyard Mourvèdre – 89 Points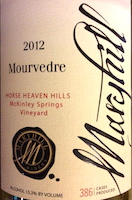 This family-owned and operated winery on the Washington side of the Columbia River Gorge is one of the larger producers from Washington State. Mourvèdre typically doesn't receive much attention, but this 100% Mourvèdre, with fruit pulled from the Horse Heaven Hills AVA who provide about 1/3rd of total grape acreage from Washington State, is aged 16 months in both French and Russian oak, which certainly provides notes of sweet charred cedar, but also rusticity from the Russian wood, along with soft tannins. This Mourvèdre is easy drinking with warm notes of blackberry, black cherry, licorice, and cranberry on the nose that translates into currant and mixed berry on the palate with hints of maple and molasses. The acidity is mild allowing for a wine that is suited to both food, or just by the glass. For those seeking a truer New World expression of this Old World wine, Maryhill defines this nicely.
Average Price: $34/ 750ML
Alcohol: 15.3%
Pair With: Roasted chicken, grilled polenta, hamburgers, wasabi rubbed grilled swordfish.
Availability: Limited
Website: www.maryhillwinery.com
For more than 25 years, The California Wine Club founders Bruce and Pam Boring have explored all corners of California's wine country to find award-winning, handcrafted wine to share with the world. Each month, the club features a different small family winery and hand selects two of their best wines for members.