Wine To Go Buy This Week - 2012 Duckhorn Vineyards Howell Mountain Napa Valley Red Wine – 93 Points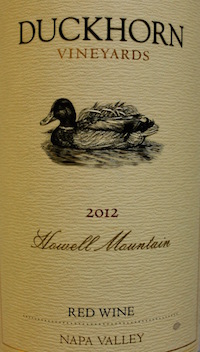 Duckhorn Vineyards has sourced grapes from Howell Mountain for more than a quarter century and has crafted a Howell Mountain bottling since 1989. Recognized as one of the Napa Valley's best winegrowing regions, grapes from Howell Mountain are known for producing age-worthy red wines. The 2012, comprised of 75% Cabernet Sauvignon, 19% Merlot, 5% Cabernet Franc, and 1% Petit Verdot, offers soft but intense fruit, is stunningly viscous and smooth, and fills the palate with bing cherry, wild berries, red currant, dried herbs and graphite, cedar, and back notes of earthiness and minerality, stone, and hibiscus. The tannins are evident but balanced and offers enough structure to keep the wine vibrant. Using only French oak barrels, 95% of which are new, this blend was aged for 24 months, meaning it's ready for drinking immediately, and that you've got 15-20 years to lay this down if you choose.
Average Price: $95/ 750ML
Alcohol: 14.9%
Pair With: Thyme and pepper crusted duck breast, creamy short rib and fennel risotto roasted quail with grilled figs.
Availability: Nationally
Website: www.Duckhorn.com
For more than 25 years, The California Wine Club founders Bruce and Pam Boring have explored all corners of California's wine country to find award-winning, handcrafted wine to share with the world. Each month, the club features a different small family winery and hand selects two of their best wines for members.