Wine To Go Buy This Week – Valentine's Edition - Moët & Chandon Rosé Imperial – 90 Points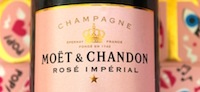 As one of the largest landholders in Champagne and one of the oldest Champagne Houses dating from 1743, Moët & Chandon consistently turns out quality Champagne. Their Imperial Rosé is deep salmon, almost amber in color giving off fresh strawberry, lime, raspberry, and black cherry with back notes of plum, rose petal, a slight hint of pepper, resin and menthol. This is a clean and pure expression of Champagne, refreshing without being overpowering, with the girth of Pinot Noir as its base, followed by Pinot Meunier and 10 to 20% Chardonnay, allowing for a broader range of food pairings. There is a noticeable acidity and a medium carbonation with just the slightest hint of sweetness at nine grams per liter of dosage. Just in time for Valentine's Day it comes in a decorative pink Emoji Gift Box with peel and stick emoji stickers to decorate your bottle.
Average Price: $49.99/ 750ML
Alcohol: 12%
Pair With: Beef Carpaccio with olive oil and fresh-milled black pepper, ratatouille of fresh vegetables, pan seared chicken breast with garlic salt and fresh thyme.
Availability: Nationally
Website: www.1-877-spirits.com
For more than 25 years, The California Wine Club founders Bruce and Pam Boring have explored all corners of California's wine country to find award-winning, handcrafted wine to share with the world. Each month, the club features a different small family winery and hand selects two of their best wines for members.