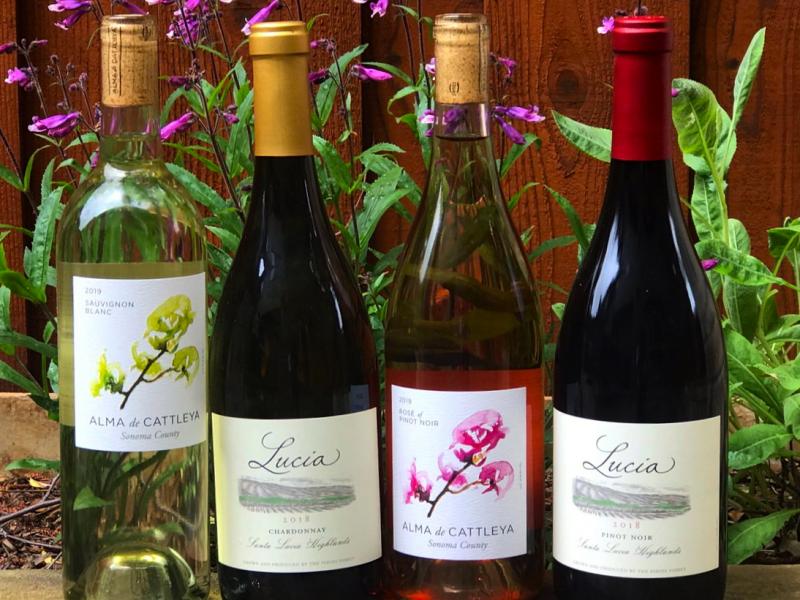 "We're all about the utmost hand labor," says Mark Pisoni of his vineyard management during a recent Zoom tasting I did with him, his brother Jeff Pisoni, and Jeff's wife, Bibiana Gonzalez Rave. But first I need to clarify the family connections here. Brother's Jeff and Mark are the son's of the legendary Gary Pisoni who is one of the stalwarts of Monterey County wine. The brothers started their own label, Lucia, and Mark manages the vineyards while Jeff makes the wine. Jeff is married to Bibiana, who is also a winemaker with her own label, Almya de Cattalyna. So there we have it.
The tasting centered around two wines from the brother's label, Lucia (they also produce under the Pisoni, and Lucy labels) amid their Monterey vineyards, and two wines from Bibiana's portfolio. If you know Monterey and the Santa Lucia Highlands you know of the Salinas Valley, one of the most fertile and productive crop areas in California. So it's no surprise that in addition to growing grapes Jeff and Mark grow lettuce, broccoli, asparagus and Santa Rosa plums. Guided by their father's agricultural beliefs they "micro-manage" their vineyards, dropping fruit, pruning any clusters that may have any damage every 10 days or so. They use only native yeasts. "No more synthetic fertilizers, just compost and cover crops only," says Mark. Of their 280-acre property, only 30 acres are planted to grapes, the rest is left in its natural state. And they do bee-keeping as well, all for the health of the vineyard and the entire property. "Site is huge, you can't replace where things are grown," Mark says with near fanatical devotion. Good farmers know that it's critical to have your vineyard, orchard or what have you, set among undisturbed land so the natural world can do its thing and you are part of the bigger picture.
For Bibiana, growing up in Columbia, Brazil there was no wine culture, just beer, and fruit juices. "We never drink wine at dinner," she says. Perhaps oddly, from about the age of 14 she knew she wanted to make wine. "My idea of wine back then was to buy grapes and mix them in a blender," she says. Obviously that approach doesn't exactly work. "I knew I had to leave Columbia to make wine." So she did. And she studied in Bordeaux, eventually landing in Sonoma in 2004 for her first harvest. Her wines (Alma de Cattleya, Cattleya, Shared Notes) are all Sonoma and Napa fruit, and I've had several vintages and they are lovely wines, crafted with finesses and grace.
In addition to the bevy of wines, they also offer for purchase honey from the bees on their property as well as a delightful Columbian whole bean coffee called Shared Notes. Any one of these wines would be a welcomed addition to your wine drinking routine, and frankly, the point is to always try new things and expand your palate.
Alma de Cattleya 2019 Sauvignon Blanc
From Sonoma, bright, fresh and crisp fruit of lemon zest, lime kefer, a slight tartness, mineralogy, herbaceous quality and great acidity make for a Sauvignon Blanc that is wonderfully balanced. Made dry and aged a mere 6 months. $22 ~ 90 points
Lucia 2018 Chardonnay
Estate fruit. Resin, lime kefer, summer grass, meringue, lemon verbena, Scottish shortbread. Great balance. Aged 11 months in French barrels, with 32% being new. $45 ~ 91 points
Lucia 2018 Pinot Noir
Starts off with great acidity filling out the pallet with ripe bing cherry, strawberry, boysenberry, five spice, light touches of cola. $45 ~ 92 points
Alma de Cattleya Cabernet Sauvignon  
This seriously bests some higher end, expensive Napa Cabernets and is proof that you can find a comprehensive Cab at a reasonable price. Subtle and seductive this Cabernet offers light but obvious blueberry, blackberry, black cherry with nice acidity and tannins running through the whole of the wine. $48 ~ 92 Points