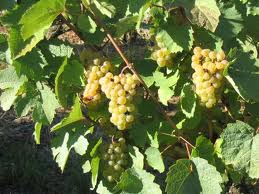 France's Loire Valley, is home to many great wines including the region of Vouvray, the home of Chenin Blanc.  While Chenin Blanc wines are made around the world, perhaps nowhere else makes such distinctive and wonderful wines from that grape as the Loire Valley.  The Loire Valley is in northeastern France and Vouvray is located east of the city of Tours along the right bank of the Loire River.
Vouvray is also the name of an AOC designation (since 1936) that makes wines from the Chenin Blanc grape.  While use of the Arbois grape is permitted, chances are that if you are drinking a Vouvray, it is made from Chenin.  Chenin Blanc is also called Pineau Blanc de la Loire.  The AOC's borders include the village of Vouvray along with the villages of Chancay, Nouzilly, Vernou-sur-Brenne, and Rochecorbon.  Under AOC law, the wines may be Sec (dry), Demi-Sec (Semi-Dry), Moelleux (Mellow)or Sparkling. 
Sec wines are the driest level of wine with fewer than 4 grams of residual sugar per liter.  Demi-sec wines are off-dry and have 4 to 12 grams of residual sugar per liter.  The Moelleux wines are sweet and often affected by Botrytis with 12 to 45 grams of sugar per liter.  The botrytis is promoted by the moisture from the many smaller streams and tributaries of the Loire.  Finally, Doux wines are the sweetest style with more than 45 grams of residual sugar per liter.  The term liquoreux may also be found on the label for the richest and sweetest wines.  When drinking Vouvray, the perceived level of sweetness will be balanced by the acidity in the wine making some wines taste more or less dry than the label might indicate. 
The climate is mostly continental but there is some influence from the Atlantic Ocean.  While wineries produce many styles of wine, the vintage character will tend to dictate which styles work better.  In a cooler vintage, dryer wines tend to excel.  Vouvray's northern location and cool climate mean that it is often difficult to achieve full ripeness, even though the grapes are often not harvested until late October or November. 
The vineyards of Vouvray are on a plateau and planted with southern facing exposures.  The soils are composed of gravel and clay above a bed of tuffeau rock.  An interesting facet of Loire Valley wineries are the wine cellars themselves.  They are created by digging into the tuffeau rocks, which make ideal storage. 
The region first began to produce wine in 372A.D. when the Marmoutier monastery was founded by Saint Martin.  The Chenin Blanc grape originated in the nearby Anjou region during the 9th century.  Wine known as Vouvray has been made since the Middle Ages.  At that time, wines were made at local monasteries by the resident monks.  The Dutch further developed the region's vineyards during the 1500s for trade in London, Paris and Holland.  That version of Vouvray was a blended wine using grapes from all across Touraine, the larger region encompassing Vouvray. 
Today, there are more than 5,000 acres of Chenin Blanc planted in Vouvray.  More than one million cases are produced each year.  Most wines are fermented in stainless steel or neutral barrels.  The wines usually do not undergo malolactic fermentation.  While the wines are released quickly, the better ones need bottle age to develop.  The sparkling wines are made with what used to be called Méthode Champenoise before the Champagne producers successfully lobbied the EU to prevent the use of this term.  Now you will see it marketed as the Methode Traditionelle.  They will be also be labeled as petillant (semi-sparkling) or mousseux (full sparkling). 
The Chenin Blanc grape has a naturaly high acidity.  One of the surprising things about Vouvray is how long it will not only age but improve in a good cellar due to this acidity.  The better quality Secs will take three to five years from vintage to develop, hold for another ten to twenty, and then begin a slow decline.  The sweeter styles will have an even longer ageing curve with the better examples easily lasting thirty to fifty years or more.  The sparkling versions, however, should probably be drunk within five to ten years of vintage. 
Dry Vouvrays are light golden in color, which will deepen with age.  They can have floral notes along with pears and apples.  As the sugar content increases to counter the acidity, look for ginger and nutty notes.  The sweet styles also have lovely honey notes. 
Recent vintages have been good, perhaps due to global warming.  The 2002 and 2005 vintages truly stand out for me.  The better wines from those vintages can still be found in the market place.  That said, 2008 and 2009 are just a notch behind. 
My two favorite producers are Domaine le Huet and Phillipe Foreau.  Huet was formed in 1928.  They own 35 hectares divided between three vineyards, Le Haut-Lieu, Le Mont and Le Clos du Bourg which are farmed biodynamicaly.  More than half the vines are over 50 years old.  Depending on the vintages, they make a Sec, Demi-Sec and Moelleux and a sparkling wine.  Huet also makes a Cuvee Constance which is very sweet in the best vintages.  These are some of the best values to be found.  Huet is a world class winery but their Secs can be found for under $30, the Demi-Secs for about $5 more.  These are wines that drink great on release, and then they may shut down for couple of years but will emerge and age gracefully for twenty or thirty years or more!  I suspect the 2002s and 2005s have thirty years in them, while the Cuvee Constance will reach the century mark. 
Foreau got its start in 1919, but in 1924 they acquired Clos Naudin, one of the premier vineyards in Vouvray.  Today they own about 30 acres entirely planted with Chenin Blanc.  They make a Sec, Demi-Sec and Moelleux as well as a Sparkling wine.  Their pricing also ranges from the mid-$20s on up.  As to which I prefer between Huet and Foreau, it just depends on which producer did a little better in a particular vintage.  For example, I preferred Huet in 2002 and Foreau in 2005, but would happily drink wines from either producer in any vintage! 
Two other wineries I enjoy are Francois Chidaine and Champalou.  Chidaine is probably better known for their Montlouis, a small Loire Valley AOC across the river that also produces wines from Chenin Blanc.  Chidaine's Vouvrays are also excellent.  To my mind, they lack some of the sheer piercing intensity of Foreau of Huet, but they are still quite excellent.  They usually cost in the mid-$20s.  Champalou's wines may be slightly behind these other producers, but they are also much more affordable and can be found for under $20. 
Vouvrays go very well with sea food and vegetable dishes.  The sweeter versions can be served anywhere you might serve a sauternes or eiswein.  Younger, they make excellent aperitifs, especially the sparkling versions. 
Vouvrays represent some of the best values in the wine world today.  They are versatile wines that work well alone and even better with food.  Best of all, one not need break the bank to find a really pleasing wine.  I hope you all go out and try some.  If you do, please let me know what you think.