Top Ten White Burgundies in 2016
I tend to taste and drink a lot of wine over the course of a year. I am in a few tasting groups, sometimes the wines are consumed at various local wine store tastings and a number drunk with friends and family. Early on, it was evident that the best way to pay attention and also to remember what wines were consumed was to write a tasting note. Over the years, I have written well over 10,000 tasting notes probably representing 70% of the wines I have tasted. I make no pretense about the quality of the notes, but sip by sip and bottle by bottle, the notes have gotten a bit better. It always interesting at the end of the year to go back and review what wines were consumed and which ones I liked the best – overall and in categories. In 2016 I wrote 1,334 tasting notes. Thanks to computers, I can sort and select them down into various lists. I give you these to use as you wish – suggestions, comments, and reasons to laugh or disagree.
Caveat - I have for the most part not repeated wines that were tasted multiple times or the same wine from a different but close vintage in an effort to list more wines for those looking for suggestions. I drink, for the most part, what my wife and I like, so did I miss out on categories or specific wines? You bet. There is a lot of great wine out there and one can't drink it all. Part of the fun is seeing, over the years, how tastes change, finding new discoveries, following the development of vintages but most of all, just enjoying this special beverage. Cheers! - Loren Sonkin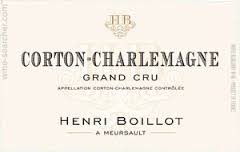 1. 2010 Henri Boillot Corton-Charlemagne - France, Burgundy, Côte de Beaune, Corton-Charlemagne Grand Cru
This really stepped it up a notch. A real WOW wine whose best days are still ahead. While it is a big wine, it is not a ripe wine (nor under ripe either). The nose has gunpowder, pears, slight mint with a huge mineral streak. With air some pears emerge. On the palate, this is round and seamless with great balance. Powerful yet works well with food. Long finish. The kind of wine that makes me think about buying White burgs again. Gorgeous wine. (95 pts.)
VINEBOX is a monthly wine-by-the-glass membership club. Members receive a curated box containing three glasses of wine from all around the world. Each shipment also contains tasting notes, pairing suggestions and some fun facts about where the wine came from. Explore new regions, learn about taste preferences, and get ready to find a few favorite wines with VINEBOX.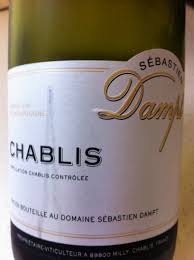 2. 2013 Sebastien Dampt Chablis Grand Cru Les Clos - France, Burgundy, Chablis, Chablis Grand Cru
This wine exceeded my expectations. It did need some time to open up and while great right away, even better with a couple of hours of air. Light golden in color. The nose is chalky but seems more red apple than green initially. The green comes out with air. On the palate, great texture. Good bite. Nice green apple, chalk and minerals. It tastes like Grand Cru Chablis. I no longer try to age white Burgs, but this seems like it would make old bones. Beautiful wine. A Fass Selection. (94 pts.)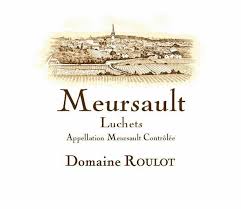 3. 2001 Domaine Roulot Meursault Les Luchets - France, Burgundy, Côte de Beaune, Meursault
Killer at this stage. This was slightly warm but that was dine. Some red apples, great minerality on the nose. Nice texture. More minerals but some citrus on the palate. What it made it great were layers of complexity of earth, minerals and fruit. Nice acidity. Good finish. This had a lot of air by the time I tried it but was everything I want in a white Burg with age. (93 pts.)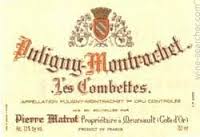 4. 2010 Domaine Matrot Puligny-Montrachet 1er Cru Les Combettes - France, Burgundy, Côte de Beaune, Puligny-Montrachet 1er Cru
Wow, I really liked this one, perhaps a bit more than the group. I buy very little White burgundy these days so it's great to be able to drink sound bottles that others brought. This is just starting to show a hint of age/complexity. It is a bigger, riper styled Burgundy. Lots of peaches, butter, and even dried honey notes but with the backbone of acidity to carry it thru the fruit. Creamy texture. Lots of depth as it unwinds in the glass. Good finish. Went great with a spicy pasta dish I had. Got better as it warmed up. (93 pts.)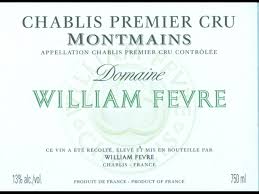 5. 2010 Domaine William Fèvre Chablis 1er Cru Montmains - France, Burgundy, Chablis, Chablis 1er Cru
Open for 18 hours. It's been a while since I have had this in any vintage. One of the better 1er Crus. Light golden in color. The nose is great with lemons, slightly chalky and steely. On the palate, chalky with tart green apples. Nice depth and complexity. Good finish. Very clean and mineral drive. Everything I want in Chablis. (92 pts.)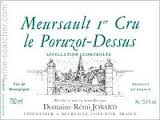 6. 2012 Domaine Rémi Jobard Meursault 1er Cru Le Poruzot-Dessus - France, Burgundy, Côte de Beaune, Meursault 1er Cru
Great showing with 4 hours of air. Nice citrus on the nose. Slightly nutty. Wonderful rich texture. Young, of course. Still, nice acidity. Good fruit. Grapefruit. Long finish. A long life ahead. (92 pts.)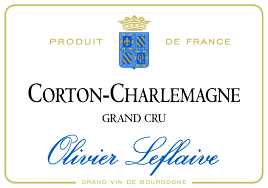 7. 2007 Olivier Leflaive Corton-Charlemagne - France, Burgundy, Côte de Beaune, Corton-Charlemagne Grand Cru
Golden in color. Nice lemon vanilla cream on the nose. Decent acidity. This is good. Would like a bit more complexity and volume. Perhaps young or shut down, but I had higher hopes. I am sure it is not inexpensive. That said, an excellent wine. (91 pts.)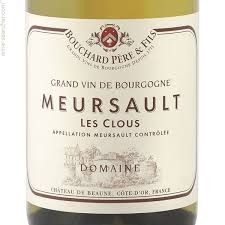 8. 2008 Bouchard Père et Fils Meursault 1er Cru Les Genevrières Domaine de Chateau de Beaune - France, Burgundy, Côte de Beaune, Meursault 1er Cru
Above my expectations. Nose has nice lemons. Good balance. Very deep. Tight layering even with 4 hours of air. Fresh and vibrant. Lemons on the palate. Nice finish. Well done. (91 pts.)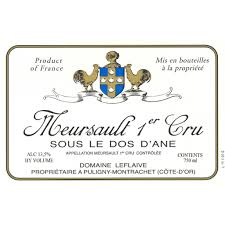 9. 2009 Domaine Leflaive Meursault 1er Cru Sous le Dos d'Âne - France, Burgundy, Côte de Beaune, Meursault 1er Cru
A bit sweaty on the nose. slightly flat in terms of acidity. Good fruit though. Orange juice and lemons on the palate. A bit of complexity. Very enjoyable with what was a few hours of air. (90 pts.)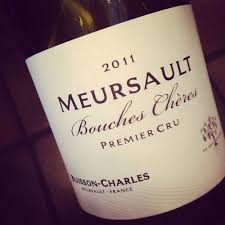 10. 2011 Buisson-Charles Meursault 1er Cru Bouches-Chères - France, Burgundy, Côte de Beaune, Meursault 1er Cru
Harder to see where this is going. Not a lot of fruit. Some lemons. On the palate, I liked the minerality. It finishes slightly bitter though. Very nice. OK acidity. Food helps it. (89 pts.)