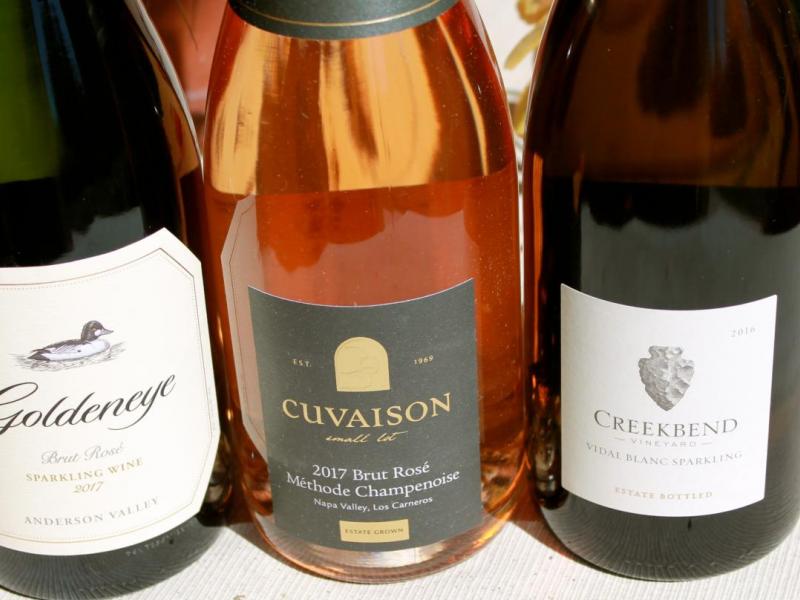 Wine with bubbles. Whether it's called Champagne, Cava, Sekt, Prosecco, or sparkling wine, we like wine with bubbles in them. There are a good many wineries that are known for their still wines, but are also quietly going about making sparking wine. Sure the Pinot, or Cabernet, or Chardonnay gets all the attention, so it's really about time to shine a light on the surprise sparkling wines out there.
Briefly, bubble wine has a long and painful history. The Benedictine monk Dom Perignon did not invent Champagne (called so because it is made in the Champagne region of France), but rather he helped perfect the process. Dom and another monk, Jean Oudart, capitalized on the trend of sparkling wine in the late 1600s. Both began experiments with second fermentations. Dom Perignon is credited with sourcing grapes from a variety of vineyards and blending wines to produce consistency. But as with all new endeavors, fermenting wine in a bottle had its price. It was understood that sugar and yeast needed to be added to produce a controlled second fermentation inside the bottle in order to create bubbles, however the amounts were never exact. Bottles routinely exploded, resulting in an average loss of 30% of inventory, not to mention causing physical injury to cellar workers on occasion. Historically sparklers were sweeter wines, typically 10 times sweeter than the ones we have today. Soon, other wine regions started making their own, and now you have bubble wine from every corner of the globe. Below are a few examples of sparkling wine made by wineries better known for their still wines.                          
Goldeneye 2017 Anderson Valley Brut Rosé
Located in Mendocino's Anderson Valley, Goldeneye started in 1996 and their first Pinot Noir hit the market in 2000. It was logical then that a sparkling wine would arrive. Made with 60% Pinot Noir and 40% Chardonnay, this is seductively soft and creamy, its pale pink color opening up to strawberry, cranberry, lemon-lime, red delicious apple, slight guava and nectarine with mild bubbles.
($65)
Cuvaison 2017 Brut Rose Méthode Champenoise
They excel at so many wines, that it's no surprise that their sparkler is a cross between their excellent Pinot Noirs and Chardonnays. First made in 2012 as an "experiment, once it was released three years later only to their wine club, it was a hit. Such a hit, they decided to make it available to everyone. This traditional French-style made wine gives you strawberry, black cherry, plum, white peach notes with rose water, violets and spring wildflowers. A terrific acidity is ideal for food pairings.
($50)
Oliver Winery 2019 Creekbend Vidal Blanc Sparkling
From Indiana, yes, I said Indiana, comes this sparkler from Oliver Winery using the oft-overlooked Vidal Blanc grape, which is a winter hardy grape – perfect for the cold Indiana winters. The result is a lovely little sparkling wine that has a bit of sweetness to it, due to the addition of ice wine (just 5%), but asserts itself with resin, honeysuckle, guava, and amber notes along with its mild carbonation.  
($25)